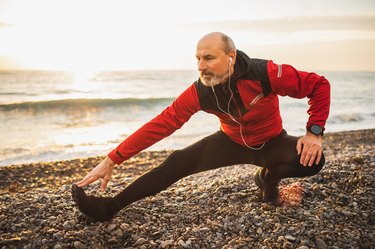 Creaky joints and achy muscles can result in pain if you don't properly prepare for a tough workout. But no one loves devoting a ton of time to a warm-up routine. So, how long do you really need to spend on dynamic stretches and activation exercises?
Unfortunately, there's no one rule to follow. Every workout — and every warm-up — is different. Learn how to figure out the best way to prep your body for your next sweat session.
How Long Should a Warm-Up Last?
Warm-ups are an essential part of your workout. A proper warm-up routine helps prevent injury, promotes better muscle control and helps improve your range of motion, according to the American Council on Exercise (ACE). In other words, warming up can improve your workout.
The more intense your workout, the longer your warm-up should be, he says. Although it's not a hard-and-fast rule, you should spend about 8 to 12 minutes warming up before a high-intensity training session and 4 to 6 minutes for a low-intensity workout.
Also consider the readiness of your body when determining the length of your warm-up.
"For example, if it's early in the morning, you may want to do a longer warm-up, but if it's the afternoon and you've already been up and moving, the warm-up would be a little bit shorter," says Clarence Hairston, CPT, coach for Tempo. "It just depends on how your body is feeling and how vigorous the activity is that you're going to be doing leading up to the work-out."
Your warm-up also depends on your personal body. If you're recovering from an injury, you may be advised to spend longer warming up (but always follow your doctor's orders). Or, if you have an active lifestyle already, you may not need to spend very long at all. So, pay attention to what your body needs to feel ready to train.
"A warm-up should make you slightly sweaty and cause you to breathe a little harder than normal," McCall says. "That's a sign that your body is preparing to be more active."
Warming Up for Different Workouts
As mentioned above, your warm-up session depends largely on your workout plan. A good way to choose which warm-up exercises to do? Do a modified version of the exercises in your workout, according to the ACE.
So, if your gym routine involves barbell back squats or dumbbell lunges, warm up your lower body with a few reps using only your bodyweight. Although you want to warm up your whole body before you train, focus on the muscles you plan to train during your workout.
Jumping into a run or bike ride without a proper warm up is an injury waiting to happen. And much like strength training, you should gauge your warm-up based on your anticipated workout. In other words, mirror your workout.
If you're planning a long steady-state run, ease into the session, spending at least 10 minutes at a comfortable pace. Or, if you're doing a speed session, run through a few strides and dynamic stretches to prepare your muscles for quick pace changes.
Most high-intensity workouts are a combination of strength exercises (like push-ups or squats) and cardio. Plus, high-intensity interval training (HIIT) usually involves moving between exercises as quickly as possible. So, if you're not properly warmed up, your form is more likely to falter, putting you at a higher risk of injury.
Was this article helpful?
Thank you for your feedback!