The famous spice and traditional medicine ginger may have some potential as a treatment for alcohol-induced as well as nonalcoholic fatty liver disease. Although too few well-designed studies on human subjects have been conducted to make any firm recommendations, ginger is safe for most people and may help support a healthy liver. Ask your doctor whether supplemental ginger is safe for you.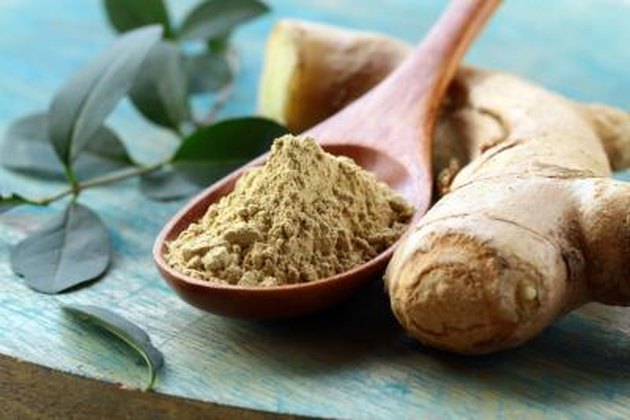 Ginger
Ginger is the underground rhizome, or root, of the plant Zingiber officinale. Volatile oils and pungent phenol compounds like gingerols and shogaols give it its sweet, spicy flavor and renowned medicinal qualities. Ginger has been used for centuries to soothe gastrointestinal upset, for cold and flu relief, motion sickness, morning sickness and immune support. The University of Maryland Medical Center notes that promising studies have been conducted on ginger's anti-inflammatory properties. Fresh or powdered ginger can be used in cooking or in tea. Its oils are extracted in tinctures or oils for aromatherapy and dietary supplementation. Ginger supplements are also available in capsule form.
Fatty Liver Disease
There are two types of fatty liver disease: alcohol-induced and nonalcoholic. Alcohol-induced fatty liver occurs when excessive consumption of alcohol causes fat to accumulate in the cells of the liver. This serious condition is characterized by a swollen liver and tenderness on the right side of the lower back. Its symptoms include fever, jaundice, spider veins and increased white blood cell count. Occasionally, however, fat builds up in the liver for other, sometimes unknown, reasons. Nonalcoholic fatty liver is often asymptomatic and harmless, but if the excess fat causes inflammation it can lead to problems with liver function. See a medical doctor to diagnose the condition of your liver.
Ginger for Fatty Liver
An article published in the January 2011 issue of "World Journal of Gastroenterology" argues that ginger has great potential as a treatment for nonalcoholic fatty liver disease, or NAFLD, and emphasizes the need for research on the subject. This hypothesis is based on ginger's antioxidant and triglyceride-lowering effects. Since oxidative stress is thought to be a primary cause of NAFLD, antioxidants like those in ginger may be able to prevent or reverse the disease. However, few well-designed clinical trials have been conducted to date. A 2008 study in the journal "Fitoterapia" reports that dietary ginger had significant antioxidant activity in rats with alcohol-damaged livers. However, there is no solid evidence that ginger affects alcoholic fatty liver disease in humans.
Ginger Dosage
The typical dose of ginger supplement for an adult is between 75 and 2,000 mg in divided doses each day. Make sure to read all supplement manufacturers' instructions carefully. Look for supplements containing 4 percent volatile oil or 5 percent pungent compounds. You may also take ginger as a tea. Shred 2 tbsp. of the root, steep in hot water and drink. For a more immune-stimulating tea, mix ½ tsp. each of ginger, pepper, cloves and honey and stir it into hot water. Grate fresh ginger and add it to salad dressings, stir-fry or baked goods. Keep daily ginger intake below 4 g to avoid gastrointestinal problems.
Warning
Using ginger could cause side effects such as heartburn, diarrhea and mouth irritation, says the University of Maryland Medical Center. As well, you could experience health complications if you have gall stones or a bleeding disorder. Ginger may also interact with medications you take, such as blood thinners, diabetes medications and high blood pressure medications.