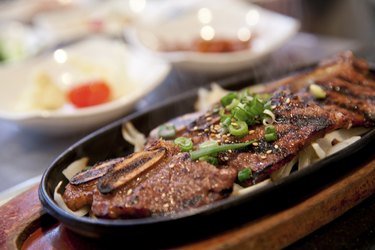 Unlike a rack of ribs, which comes from pork, short ribs are a more narrow cut of beef. Meatier than standard pork ribs, short ribs are rich in flavor and only require a simple marinade to make for a delicious dinner. Although this cut is easy to prepare, the cooking time is about three hours — so plan your time wisely!
Wondering what you need to make your best short rib dish yet? Kirk Biondi, the executive corporate chef at Ted's Montana Grill, has you covered with the best prep tips for your ribs as well as a must-try homemade BBQ sauce for the perfect finishing touch.
Short Rib Ingredients
Short ribs: Ask the butcher for the short rib cut that was brought in that day. Fresh is always better, recommends Biondi.
Cooking oil: Select a cooking oil of your choice such as vegetable oil or olive oil.
Beef stock: Immersing your ribs in beef stock will add major flavor and juiciness. You can also use any other flavorful liquid of your choice.
Homemade BBQ Sauce Ingredients
Garlic
Worcestershire sauce
Onions
Unsalted butter
Light brown sugar
Dry mustard
Kosher salt
Black pepper
Ketchup
Apple cider vinegar
How to Cook Short Ribs
Preheat oven: Before you begin, preheat your oven to 300° Fahrenheit.
Season and sear the ribs: Season and sear the short ribs over high heat in a roasting pan. First, sear with the meat side down for five minutes and then flip and do the other side for five minutes. Make sure not to overcrowd the pan so that you can get a good sear.
Immerse your ribs: Fully immerse the ribs in beef stock or any other flavorful liquid.
Add spices: In the marinade, add a spice blend of your choice. You can keep it simple or experiment.
Slow cook: Slow cook the meat and marinade for three hours or until the meat is completely tender.
Remove your ribs: Once they are finished cooking, remove the meat and place the remaining juices into a saucepan.
Reduce the liquid: Over medium heat, reduce the liquid while skimming the fat until it achieves a sauce consistency. Then, strain the sauce, gently pulling off the fatty tissue on the top layer of each rib. This step should be done while the ribs are slightly warm.
Prepare your BBQ sauce: In a separate dish, combine the ingredients for your BBQ sauce and refrigerate until ready to serve.
Serve your ribs! Enjoy.
Tip
Now that you've got your protein covered, you can serve your ribs with any side dishes of choice. Biondi serves his short ribs over mashed potatoes topped with gravy. He also recommends trying grits, polenta or vegetables. Don't forget to top it off with your homemade sauce!