Fruits and vegetables, according to the Centers for Disease Control and Prevention, contain essential vitamins and minerals that can help to protect you from chronic diseases. Substituting fruits for higher calorie foods can also help you lose weight. Replacing your dinner with fresh fruits is simpler than it sounds. Whether you want to eat fruit for weight loss, health reasons or you just enjoy fruit, many options exist that allow you to use fruit as a dinner replacement.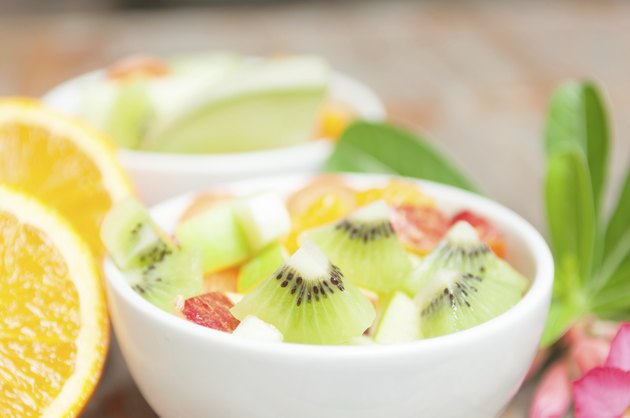 Step 1
Make a fruit salad. Cut your favorite fruits into bite-sized pieces. Mix lime juice and orange liqueur to drizzle over the fruit. Garnish with fresh mint leaves. Alternatively, you can mix yogurt and honey with fruit to create a creamy fruit salad.
Step 2
Create a fruit smoothie. Mix your favorite fruits in a blender to make a fruit smoothie for dinner. Add plain yogurt, whole milk or ice cream to make your smoothie rich and creamy.
Step 3
Juice fruit to create your dinner. Many people juice fresh fruits and vegetables to replace more traditional meals. Jennifer K. Nelson, a Mayo Clinic nutritionist, recommends keeping some of the pulp in your juice to provide more fiber and make the drink more filling.
Step 4
Mix balsamic vinegar with brown sugar and vanilla extract. Pour over fresh berries and allow the fruit to marinate for 10 to 15 minutes. Drain the marinade and eat the berries.
Step 5
Add fresh fruit to yogurt or cottage cheese for dinner. Sliced strawberries, blueberries, pineapple or raspberries make delicious additions to yogurt or cottage cheese. Add paprika and nuts for a variation.
Things You'll Need
Fresh fruit

Lime juice

Orange liqueur

Honey

Yogurt

Blender

Juicer

Balsamic vinegar

Brown sugar

Cottage cheese