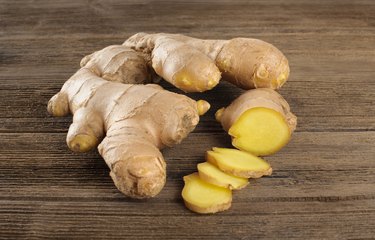 Ginger has been used for centuries to treat a variety of ailments, from gastrointestinal upset to sinus problems. Sinus problems often occur with the common cold and can leave you with a stuffed up nose, swelling around your eyes and pain in your face and head. Sinus problems can also be a result of allergies, bacteria and fungal infections. Sipping a warm cup of ginger tea may help alleviate the pressure and pain of sinus problems. The same tea can be applied to your face in a compress to alleviate sinus symptoms.
Ginger Tea
Step 1
Place the desired amount of grated ginger in the measuring cup. Small amounts of ginger yield a weaker tea, while more ginger makes for a spicier cup.
Step 2
Pour boiling water over the ginger to reach the desired volume of tea. Let the tea sit, or steep, for 10 minutes.
Step 3
Place the cheesecloth or coffee filter in a coffee mug and fold the edges over the outside of the mug. Hold it firmly in place with one hand and slowly pour the tea through the cloth into the mug. Remove the cloth or filter.
Step 4
Add lemon and honey to taste.
Ginger Compress
Step 1
Brew ginger tea as above. Let it cool slightly until it's still hot, but not hot enough to burn you when you dip your finger in.
Step 2
Dip a hand towel into the hot tea and squeeze out the excess.
Step 3
Lie back and close your eyes. Place the tea-soaked towel over your face and breathe in the steam. Repeat four to five times, or until the tea is too cool to use.
Things You'll Need
Fresh grated ginger root

Boiling water

Glass measuring cup

Cheesecloth or coffee filter

Coffee mug

Honey

Lemon

Spoon

Hand towel
Tip
Ginger has a spicy, pungent flavor that is tempered by the addition of sweetener. If the tea is too strong add more water next time.
You can use sugar to sweeten the tea, but honey helps soothe the sore throat that often accompanies cold and sinus symptoms.
Fresh ginger is often sold in the produce section of grocery stores.
Warning
The tea will be hot, so let it cool for a few moments before you drink it.