Walking on the treadmill is an easy, convenient way to get your daily dose of exercise and shed some excess pounds. Moderate-intensity exercise like walking won't yield quick weight-loss results on its own, but over time you can expect to shed weight from your body, including your belly, if you add this simple exercise to your routine.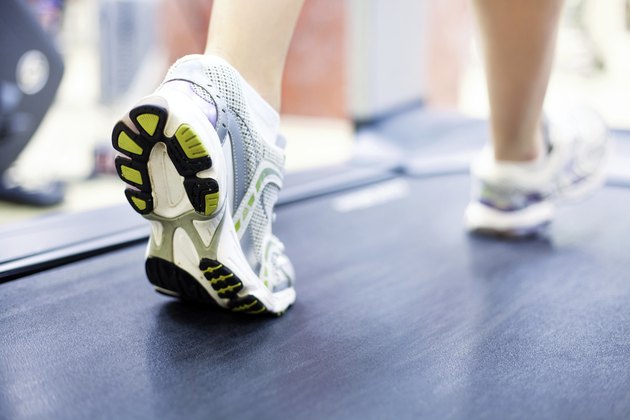 The Myth of Spot Reduction
It would be nice if you could lose weight from a specific part of your body, like your belly. But unfortunately, it's not possible to spot reduce. But any exercise that burns calories will help burn fat. Exactly where you burn this fat is a matter of your personal genetics. For many people, the belly is the last place where fat will remain when losing weight. With time, however, you will shed the fat from your belly if you increase your physical activity.
Calories for Weight Loss
To lose a single pound of fat you need to burn 3,500 excess calories. Of course, you don't want to do this all at once. A safe calorie deficit is in the area of 500 to 1,000 calories per day. At this rate you will lose about 1 to 2 pounds per week. Although this may take some time if you have a lot of weight to lose, you're more likely to keep the weight off than if you lose the weight quickly.
Walking Weight Loss
According to Harvard Health Publications, walking at a speed of 4 mph for 30 minutes burns about 135 calories if you weigh 125 pounds. At this rate you would lose a pound of fat in about 28 days. If you weigh 185 pounds you will burn about 200 calories in 30 minutes. That adds up to about a pound of fat lost every 18 days. To increase your weight loss you can decrease your calorie intake to reach a calorie deficit of 500 to 1,000 calories per day.
Walking Recommendations
According to the American College of Sports Medicine (ACSM), getting 150 to 250 minutes of moderate exercise, like walking, per week will provide only modest weight loss. Walking 30 minutes a day falls in this range, giving you 210 weekly minutes of exercise. For clinically significant weight-loss results, the ACSM recommends getting more than 250 minutes of moderate-intensity aerobic exercise per week. That works out to walking about 37 minutes or more per day.