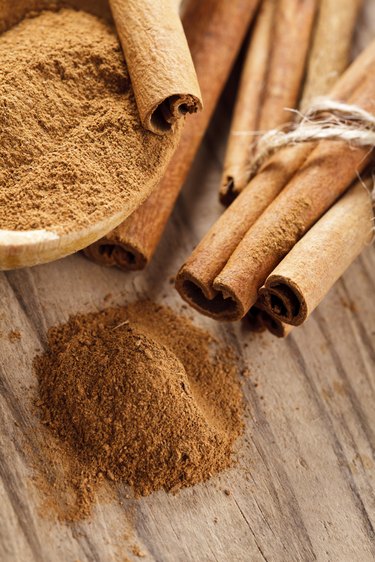 Cinnamon in drinks adds flavor and spice with no appreciable calories and fat. Trying to dissolve powdered cinnamon can be frustrating because it generally floats on the surface no matter how many times you stir it in. Don't worry -- it's not just you. Cinnamon's chemical components are nearly water-resistant, making it almost impossible to blend cinnamon into liquids. Fortunately, infusing stick cinnamon into honey, or making a sugar syrup, is much simpler and leaves you with a sweet and spicy treat to add to drinks.
Cinnamon-Sugar Syrup
Step 1
Break cinnamon sticks into small pieces. Three sticks for every ½ cup of water is a good proportion to start with. Add the cinnamon to sugar and water.
Step 2
Bring the water to a boil, stirring constantly to dissolve the sugar.
Step 3
Let the concoction boil for 2 to 3 minutes, stirring it to keep the bottom from scorching.
Step 4
Remove the syrup from the heat, cover the pot and let it stand for at least 4 hours.
Step 5
Pour the mixture through a fine mesh strainer and into a jar with a lid. Use the syrup in drinks for up to 2 months.
Things You'll Need
Jar with lid

Honey

Pot

Sugar

Water

Fine mesh strainer
Tip
Place a cinnamon stick in plain water to flavor it. Although it will not dissolve, the oils will leach out of it.
Warning
Avoid touching your eyes after handling cinnamon sticks because cinnamon oils can cause stinging.