Muscle soreness after a good lower body workout may be par for the course, But if you experience soreness the lasts longer than a day or two, you may have damaged muscle tissue by using poor technique or lifting more weight than you are ready for. Recovery from exercise takes 48 hours or longer, so you may need to lay off the squats until your soreness goes away.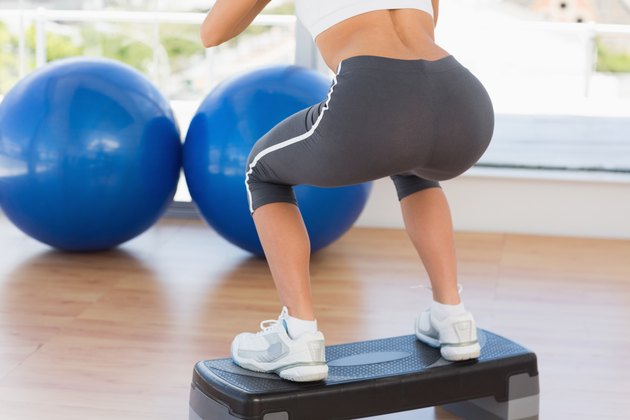 Squat Mechanics
Almost every muscle in your body is activated when performing a squat. The movement is initiated with a lifted chest and a backward movement of your hips, as if you are going to sit down. Your knees should bend after you initiate your hip movement. Keep your weight on your heels and your knees over your ankles. Your gluteus maximus, a major hip extensor muscle, works to extend your hip on the upward phase, and to control your speed on the downward phase. If other muscles like your quadriceps and hamstrings are weak, your gluts may do more than their share of work, resulting in post-execise soreness.
Getting Down
The squat requires active deceleration, meaning you must contract your muscles to slow the downward movement of the weight and prevent yourself from crashing to the floor. Moving too quickly in the downward phase can cause small micro-damage to the gluteal muscle fibers. Your body responds with inflammation and soreness that stimulates the repair process that leads to muscle growth and development. Although painful, the post exercise muscle soreness provides the stimulus for muscle growth and improved muscle tone.
Loading Up
Squats are a moderately advanced exercise. Adding weight with a barbell across your back or holding onto dumbbells will increase the intensity of your squat. Before you add extra weight, perfect your squat technique, and make sure all your muscles are strong enough. Otherwise, you may injure your back or your knees. Increase your weight gradually to minimize soreness in your butt muscles. Execute your squat slowly, with good form. Do not allow your knee angle to go lower than 90 degrees.
Warning Signs
Your glutes are a strong muscle; however, you can strain your glutes during exercise. One clear sign of a strain is feeling the muscle "pull" during the exercise. As opposed to beneficial soreness, which you may experience hours after a workout, the soreness from a strain is usually felt right away. Another potential issue is nerve irritation. Pain or soreness radiating down your glutes and leg may be a sign of an aggravated sciatic nerve. This nerve runs from your spine and could become compressed during the squat exercise if you allow your back to arch too much.