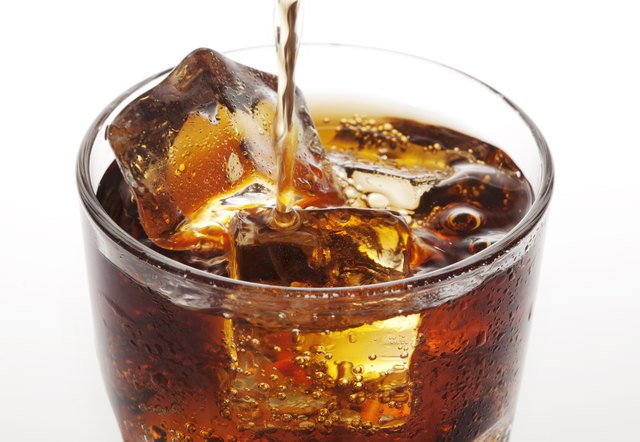 You probably know you should drink plenty of fluids when exercising, but you may be surprised to learn how carbonated drinks affect your workout. Soft drinks, seltzer water and some types of juice, sports drinks and energy drinks contain carbonation. Drinking these items for exercise has both positive and negative effects. The benefits of carbonated drinks for exercise depend on your preferences and the duration of your workout but are not always necessary for performance purposes.
Performance
There is some debate about the use of caffeine for performance enhancement because study results are mixed, but some evidence does show that the caffeine in many carbonated drinks may have positive benefits for endurance athletes, reports Rice University. This is because caffeine may allow your body to burn fat for fuel, delaying the use of muscle glycogen, which allows for a longer exercise session; however, these benefits do not appear when consuming carbonated drinks with caffeine for short bouts of exercise.
Bloating
Carbonation causes many people to feel bloated, particularly if consumed quickly or in large amounts. Drinking soda or other carbonated drinks causes excess air to build up in your stomach, resulting in bloating. Being bloated is likely to make exercise more difficult because that full feeling interferes with efficiency and may slow you down. In addition, that air in your belly may cause you to burp, creating more discomfort that may hinder your performance.
Lowered Blood Sugar
The sugar in many carbonated drinks, including soda and energy drinks, may cause low blood sugar during exercise, reports Ask Dr. Sears. While sugar is likely to give you an initial rush of energy, the spike and subsequent crash in blood sugar may leave you feeling weak and tired, which will interfere with the benefits of exercise. Sears recommends drinking water before and during exercise because it will keep you hydrated without the risk of lowered blood sugar.
Weight
Working out regularly is a great way to control your weight, both for loss or maintenance; however, drinking large amounts of carbonated drinks, which are often high in calories, may interfere with this process and counteract the benefits of your exercise. To lose weight you must burn more calories than you consume, and many people forget to factor liquid calories into their daily totals. In addition, carbonation may reduce fat loss by binding to fat cells, which slows down weight loss, according to Fit Day. Most carbonated drinks contain little to no nutrients, which may also interfere with successful weight loss.