Probiotics are health supplements that are rapidly gaining popularity as treatments for several health conditions, including diarrhea and ulcerative colitis. Certain probiotic health supplements contain very explicit directions concerning how to take the supplements, including instructions on dosing with food and water. For best results, follow the instruction provided by the manufacturer. Like any health supplement, consult your doctor before taking probiotics.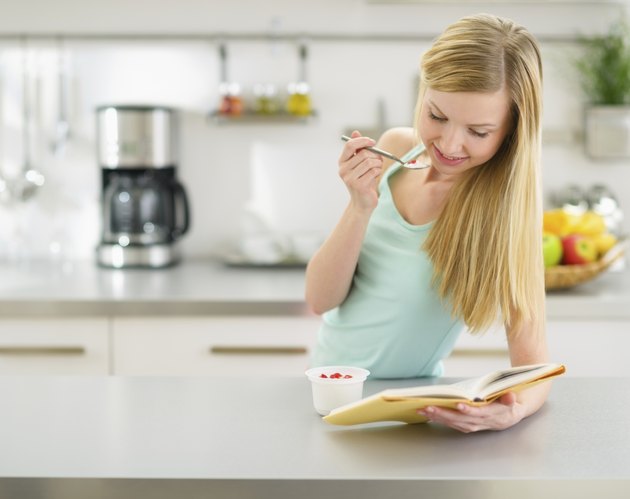 Definition
The word probiotics is sometimes used by different people to mean different things. One common definition of probiotics is "live microorganisms administered in adequate amounts which confer a beneficial health effect on the host," according to the Food and Agriculture Organization of the United Nations. Many probiotic supplements contain bacteria, often from the genera Bifidobacterium or Lactobacillus. Because these supplements contain live organisms, you should follow special steps when taking them to ensure they are still alive when they reach your intestines.
Empty Stomach
When you eat, the presence of food in your stomach triggers the production of stomach acids and other digestive fluids. These fluids break down foods and kill microorganisms, including the microorganisms found in probiotic supplements. To minimize stomach acid and keep probiotic microorganisms alive, you should take probiotic supplements on an empty stomach. Taking supplements about 30 minutes before each meal is a good way maximize the survival of the probiotic microorganisms.
Extra Water
Certain doctors recommend taking an extra step to minimize acid levels in the stomach before taking probiotic supplements. Drinking eight glasses of plain water is thought to cause the stomach to completely stop producing digestive fluids, according to Cobiotics.com. Starting with an empty stomach and drinking eight glasses of water may increase the effectiveness of probiotic supplements, but not all manufacturers recommend this step.
Type of Water
Many public water sources are treated with chemicals, such as chlorine, to kill microorganisms. These chemicals may kill the microorganisms in probiotic supplements and make them less effective. To maximize the effectiveness of your probiotic supplements, you may want to only take probiotic supplements with distilled or purified water.