It's no secret that rice and potatoes are high-carb foods, but that doesn't mean you have to eliminate them from a low-carb diet. First, it's essential to watch portion size so that a serving of rice or potatoes doesn't exceed your daily carb goals. Then you can prepare both foods in a way that reduces net carbs.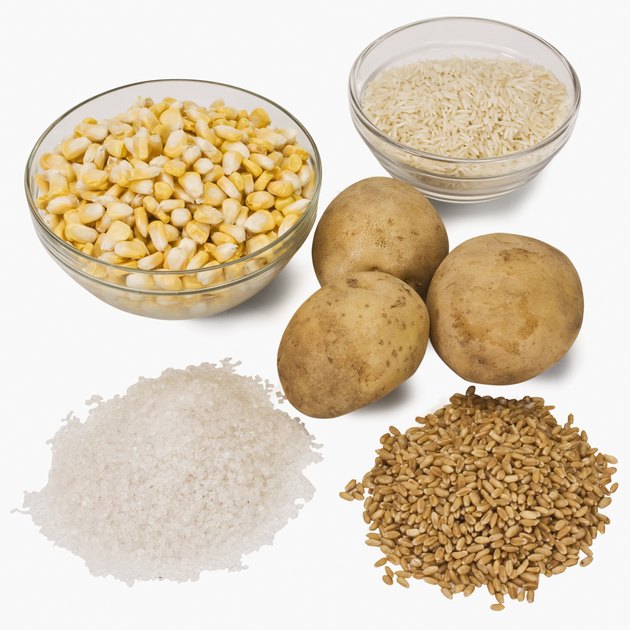 Total Carbohydrates in Rice and Potatoes
When it comes to rice and potatoes, rice has fewer carbs than a baked Russet potato, but double the amount of a sweet potato. You'll get 23 grams of total carbs per 1/2-cup serving of white or brown rice. (See Reference 1) A small, baked Russet potato contains 30 grams of total carbs, while a small, baked sweet potato comes in at just 12 grams. (See Reference 2)
White rice has the smallest amount of sugar, but brown and white varieties each have less than 1 gram of sugar per 1/2 cup. (See Ref 1) A small Russet potato contains 2 grams of sugar. (See Ref 2) A small sweet potato has the most sugar, coming in with 7 grams. (See Ref 2)
Potatoes Supply More Dietary Fiber
Most adults consume 17 grams of fiber daily, which falls short of the recommended intake of 25 grams daily for women and 38 grams for men. (See Reference 3) Dietary fiber helps lower cholesterol and keeps blood sugar balanced, which reduces the risk of developing cardiovascular disease and type 2 diabetes. Getting plenty of fiber also prevents constipation and can help you maintain a healthy weight. Rice and potatoes also contain a type of starch called resistant starch, which acts like fiber, so it offers similar health benefits.
Russet potatoes are the best choice for fiber, with 3 grams in one small baked potato. A baked sweet potato and 1/2 cup of brown rice both contain 2 grams of fiber, while processed white rice barely has 1 gram. (See Refs 1 and 2) Just remember that you lose about half the fiber from a potato if you don't eat the skin.
When rice and potatoes are consumed right after being cooked, only Russet potatoes have enough resistant starch to make a difference to your carb count. You can deduct 1 gram of resistant starch from the total carbs in Russet potatoes because it's not digested like sugar. (See Reference 4, doc pg 13 and CE note)
Carb Content Determines Glycemic Impact
Levels of blood sugar go up after you eat carbs, then they drop below normal as insulin rushes in to get excess sugar out of the bloodstream, until blood sugar settles back to normal. When blood sugar is too low you get hungry and when it's too high you're more likely to store excess sugar as fat.
The glycemic index is a tool you can use to see how rice and potatoes -- or other carb-containing foods -- will affect your blood sugar. Foods are rated on a scale of zero to 100, where 100 equals the large spike caused by glucose. Any score of 70 or higher is a high-glycemic food, which means it significantly raises blood sugar. (See Reference 6, para 8)
With a GI score of 68, brown rice is the only choice in this group of foods that's not in the high-glycemic range. (See Reference 5, section 4 – Grains – line 7) Sweet potatoes have a GI score of 70, white rice is rated 73 and baked Russet potatoes are as high as glucose, according to Harvard Medical School. (See Ref 4, section 4, line 5 (white rice) – and section 11 – veggies – lines 4 and 7)
Increase the Resistant Starch to Lower Net Carbs
The type of resistant starch in rice and potatoes – called RS3 – changes its structure as the starch is cooked and then cooled. As a result, you gain more resistant starch and fewer net carbs if you let rice and potatoes cool before eating them. For potatoes, the cooking method also makes a difference -- baked potatoes have more resistant starch than boiled potatoes. (See Reference 7).
One group of researchers tested the amount of resistant starch in freshly cooked rice, rice cooled at room temperature for 10 minutes and rice cooled in the refrigerator for 24 hours. The rice cooled for 10 minutes had double the amount of resistant starch compared to freshly cooked rice, while the rice cooled for 24 hours had 2.5 times more, reported the Asia Pacific Journal of Clinical Nutrition in 2015. (See Reference 8) You can boost resistant starch by cooking your rice and potatoes ahead of time, then reheating them when it's time to eat.