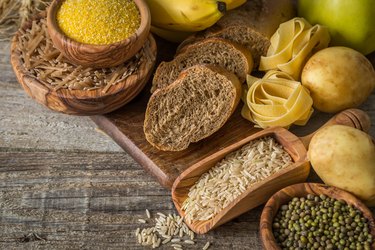 When it comes to high-carbohydrate foods, rice and potatoes are probably some of the first that come to mind. But just because they are higher in carbs doesn't mean you need to avoid them — even if you're trying to lose weight or follow a lower-carb diet.

Carbohydrates are not necessarily responsible for weight gain, especially if you're eating complex carbs like those found in whole grains, vegetables and fruit, according to the Mayo Clinic. Carbs serve an important role in nutrition as your body's preferred energy source and a source of fiber.
Eating foods like rice and potatoes can help you reach the recommended daily allowance (RDA) for carbohydrates of 130 grams per day, which is the minimum needed to supply the brain with energy, per Johns Hopkins University.
While many people eat more than 130 grams of carbohydrates each day, anything below this is often considered a low-carb diet. For a balanced diet, it's recommended that adults get 45 to 65 percent of their energy from carbohydrates, per a November 2014 article in ‌Advances in Nutrition‌.
While potatoes and rice are both high-carb foods, there are some big differences between what carbs they have and how your body reacts to them.
Rice vs. Potatoes Nutrition Facts
| ‌Per 100-gram serving‌ | | |
| --- | --- | --- |
| Calories | 130 | 92 |
| Carbohydrates | 28.2 g | 21.1 g |
| Fiber | 0.4 g | 2.1 g |
| Sugar | 0.1 g | 1.5 g |
| Fat | 0.3 g | 0.2 g |
| Protein | 2.7 g | 2.1 g |
| Potassium | 1% Daily Value (DV) | 12% DV |
| Folate | 14% DV | 10% DV |
| Iron | 7% DV | 4% DV |
Carbohydrates in Rice vs. Potatoes
The carbohydrate content of rice vs. potatoes depends on which type of potato and which type of rice you compare. The most common comparison may be a baked russet potato vs. white rice. In this case, as in the chart above, white rice has 7.1 grams more carbohydrates per 3.5-ounce serving than a russet potato.
Here's how 100 grams (or 3.5 ounces) of each food compares, according to the USDA.
| Type of Food | Amount of Carbs |
| --- | --- |
| | 28.7 g |
| | 25.6 g |
| | 21.1 g |
| | 20.7 g |
The exact macronutrient counts vary considerably from type to type. When adding new varieties of rice or potato to your diet, check the label for the number of carbohydrates per serving.
If you're looking to eat more fiber, potatoes have more fiber than rice, no matter which variety you choose — as long as you eat the skin.
A 100-gram serving of a russet potato (about one-third of a large 4-inch potato) with the skin has 2.1 grams of fiber. The same-size serving of sweet potato has 3 grams of fiber. Compared to the same amount of white rice, which has only 0.1 grams, potatoes are a higher-fiber food.
This is important as most adults aren't eating enough fiber. Adults are eating an average of only 17 grams per day when the recommendation is 28 grams for a 2,000-calorie diet, according to a November 2015 article in the ‌Academy of Nutrition and Dietetics.‌
Fiber plays several important roles in the body: It helps maintain blood sugar balance and can help keep your cholesterol levels low, which helps reduce your risk of developing type 2 diabetes and heart disease, according to the Mayo Clinic.
Fiber also helps to maintain a healthy weight and prevents constipation, per the Mayo Clinic. Something unique to rice and potatoes is a special type of starch known as resistant starch. This starch acts like fiber in the body and offers many of the same health benefits.
When you eat carbohydrates, they get broken down into sugar that's sent into the bloodstream, causing a rise in blood sugar. Insulin will then rush in to send this sugar into your cells to be used for energy, and your blood sugar levels will return to normal fasting levels.

When your blood sugar drops low, you experience hunger, letting you know it's time to eat for more energy. When you have more sugar in your bloodstream than your body can use, it's stored for the future as glycogen in the muscle or lipids in fat tissues.
This is where the Glycemic Index (GI) comes in — it's a tool that tells you how carbohydrate foods will affect your blood sugar. The index uses a scale of 1 to 100, and anything scoring 70 or higher is more likely to cause a rapid rise in blood sugar levels. If you're looking for low-carbohydrate foods, you'll want to go with the lower numbers on the GI.
When it comes to the glycemic index of rice and potatoes, brown rice has a score of 68, sweet potatoes have a score of 63, white rice has a score of 73 and baked russet potatoes are highest at 78, according to the Glycemic Index provided by Harvard Health Publishing.