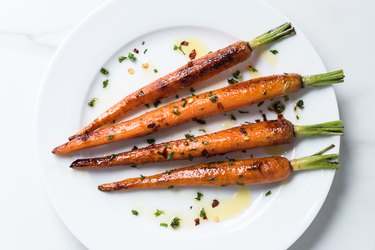 Carrots' nutrition is known to include vitamin A, but these healthy vegetables contain other essential nutrients too. Peeling your carrots can affect their nutrition, because different nutrients are found in different parts of the carrot. Carrots are healthiest unpeeled.
Tip
Although many people choose to peel their carrots before cutting them into carrot sticks or cooking them, you don't have to peel your carrots. In fact, carrots are more nutritious when the skin is left on.
Carrot skin is perfectly edible, just like beet skin, zucchini skin and the skin of most other vegetables. In fact, according to the Gerald J. and Dorothy R. Friedman School of Nutrition Science and Policy at Tufts University, certain nutrients — like vitamin C, vitamin B3 (niacin) and phytonutrients — are most concentrated in carrot skin.
While you can remove your carrot skin if it's very dirty or has been bruised, there's no need to peel your carrots. Carrot skin is just as edible as any other part of the carrot, and removing the skin just means you're removing some of the nutrients.
Make sure you always wash your carrots thoroughly, regardless of whether you peel them or not. The U.S. National Library of Medicine recommends washing vegetables with cool water for about 30 seconds. This should be enough for you to fully remove dirt, any residual pesticides and most harmful bacteria that might have been on the carrots' skin.
If you do choose to remove your carrots' skin, don't throw it away. Carrot peel uses include being incorporated into stock, soups and stews; used in baked goods like carrot cake; tossed into stir-fries and salads; and blended into smoothies.
According to the Dietary Guidelines for Americans, those consuming a 2,000-calorie diet ought to consume 2 1/2 cups of vegetables each day, which is equivalent to about five servings.
The USDA suggests that eating 1 cup (122 grams) of carrots is equivalent to consuming around two medium-sized carrots. Each cup of carrots has 50 calories, 1.1 grams of protein, 0.3 grams of fat, and 11.7 grams of carbohydrates. Out of these carbohydrates, 3.4 grams come from dietary fiber.
Assuming you don't peel your carrots, 1 cup of raw carrots will also provide you with essential nutrients including:
113 percent of the daily value (DV) for vitamin A
8 percent of the DV for vitamin C
7 percent of the DV for vitamin B1 (thiamin)
5 percent of the DV for vitamin B2 (riboflavin)
7 percent of the DV for vitamin B3 (niacin)
7 percent of the DV for vitamin B5
10 percent of the DV for vitamin B6
6 percent of the DV for vitamin B9 (folic acid)
5 percent of the DV for vitamin E
13 percent of the DV for vitamin K
8 percent of the DV for potassium
6 percent of the DV for copper
8 percent of the DV for manganese