Carrots add a splash of color to a variety of dishes, and their versatility makes them a staple ingredient in many kitchens. Cooking carrots can be as simple as boiling them for a few minutes, but this vegetable is also suitable to eat raw. Either way, one choice you must make is whether you'll peel your carrots. In some cases, it's healthier to enjoy your carrots unpeeled.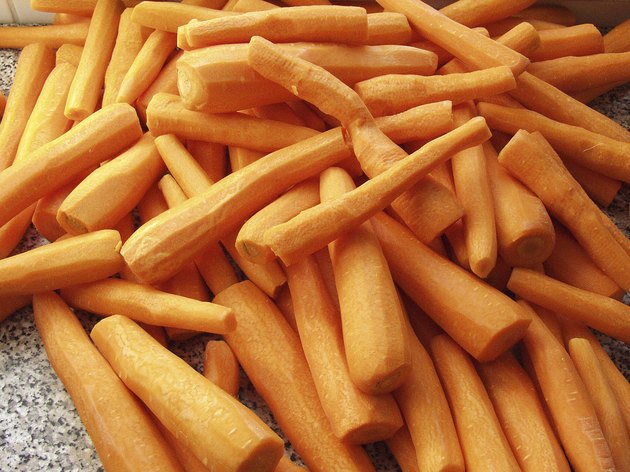 Don't Be Afraid to Peel
Don't think of peeling your carrots as significantly diminishing their nutritional value. Many of a carrot's nutrients are found in the skin and immediately beneath it, but according to "The New York Times," peeled carrots are still a healthy vegetable to eat. The fact that a carrot's peel and its flesh are the same color is an indicator that the two parts of the vegetable have a similar nutritional value, notes horticulture professor Dr. Stephen Reiners in the "New York Times."
Scrub Carefully to Remove Pesticides
If you buy non-organic carrots, it's healthier to take the time to peel the skin before cooking the vegetable or eating it raw. When carrots are treated with pesticides as they grow, the peel holds the majority of the chemical. If you'd rather not peel your carrots, take time to wash them thoroughly with hot water. An alternative approach is to dilute some vinegar or a combination of lemon juice and salt in hot water before washing the carrots.
Organic Carrots Are Ideal
If you have the budget to do so, consider buying and eating organic carrots. Organic produce isn't sprayed with pesticides, which means you can safely eat the entire carrot to maximize its nutritional value. "Organic Authority" magazine reports that carrots contain a high degree of phytonutrients, many of which are found in the skin or immediately beneath it. Consuming phytonutrients leads to a number of health benefits, including lessening your risk of cancer and boosting your immune response.
Get Crunching For Your Health
The U.S. Department of Agriculture National Nutrient Database doesn't break down the nutritional value of peeled versus unpeeled carrots, but notes that raw carrots are a healthy item. One cup of chopped carrots has just 52 calories, less than a gram of fat and 3.6 grams of dietary fiber. Carrots are also a valuable source of calcium, potassium and a number of vitamins. They also provide beta carotene, which improves eye and skin health while improving your immune system.