Protein is an essential nutrient needed to maintain and repair the cells in your body -- it also plays a key role in healthy weight management, according to a review published in 2008 in the "American Journal of Clinical Nutrition." Lentils – a type of legume -- are not chock-full of protein, but they contain numerous other beneficial nutrients your body requires every day.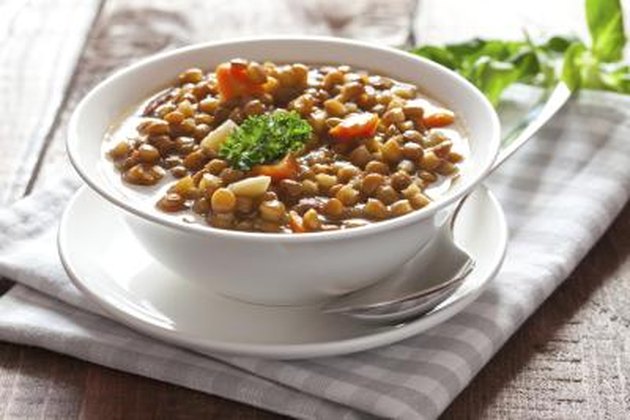 Protein in Lentils
One cup of lentils provides about 18 grams of dietary protein, according to the U.S. Department of Agriculture's National Nutrient Database. A more reasonable portion size of 1/2 cup of lentils thus contains about 9 grams of protein. Although the protein in lentils is classified as incomplete, meaning it lacks some of the essential amino acids you require to build proteins within your body, eating complete proteins or complementary incomplete proteins – such as brown rice – during the course of the day helps ensure your amino acid needs are met.
Daily Protein Needs
Lentils provide you with a significant amount of your daily protein requirements. The Institute of Medicine suggests men need 56 grams of protein and women require at least 46 grams of protein daily. But if you're pregnant, nursing or work out regularly, your protein needs are higher. The IOM recommends pregnant and nursing women get 71 grams of protein daily, and the International Society of Sports Nutrition suggests active adults consume 0.64 to 0.91 grams of protein per pound of their body weight each day.
Other Beneficial Nutrients
Protein isn't the only nutritional benefit you'll receive when eating lentils – they're packed with iron, potassium, phosphorous, zinc, folate and niacin. Lentils are also rich in soluble fiber, which helps reduce – or prevent -- high blood cholesterol levels. One-half cup of lentils contains about 8 grams of dietary fiber. The Dietary Guidelines for Americans 2010 suggests men get at least 38 grams of fiber and women aim for 25 grams of fiber daily.
Lentils Vs. Other Foods
Despite their nutrient density, lentils aren't the richest source of dietary protein. According to the Academy of Nutrition and Dietetics, 3 ounces of grilled chicken provide 27 grams of protein, 3 ounces of lean beef contain 21 grams, one-half cup of low-fat cottage cheese provides 14 grams and two eggs contain about 12 grams of dietary protein. These protein-rich, animal-based foods, however, lack the fiber present in lentils and other legumes.