The unofficial Mayo Clinic Grapefruit diet is a short-term, rapid weight loss plan. Although it bears the name of the Minnesota-based Mayo Clinic, spokespeople say the diet was not developed or ever endorsed by the medical institution. The diet consists of a strict set of menus and guidelines that proponents claim can help you lose up to 50 pounds if followed for 10 weeks. However, health professionals criticize the program as being unhealthy and contend it is not a viable option for people seeking long-term, sustainable weight loss.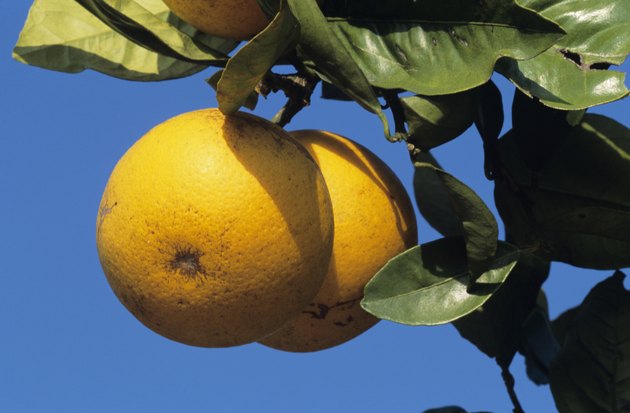 Menu Plan
The unofficial Mayo Clinic Grapefruit diet revolves around a 14 day eating plan. For breakfast each day, followers are instructed to eat two eggs, two slices of bacon and either 4 oz. of grapefruit juice or half of a grapefruit. Lunchtime consists of unlimited salad with the dressing of your choice, more grapefruit or grapefruit juice and any type of meat, fish or poultry in any amount and prepared in any manner. Dinner is similar to lunch, but with vegetables substituted for the salad and, again, with the stipulation that the foods can be eaten in unlimited amounts. Followers are allowed a before-bedtime snack of either a glass of non-fat milk or tomato juice. The diet guidelines instruct you to adhere to this menu program for 12 days, then to take two days off and continue onto another round of the diet if you wish to lose more weight.
Guidelines
Besides the detailed menus, the Mayo Clinic Grapefruit diet instructs followers to strictly avoid any form of sugar, celery, potatoes, white onions and wheat products, including bread and pasta. Followers are told to limit their caffeine consumption to one caffeinated drink per meal, but not to limit the amount of butter or oil used in either cooking or as a flavoring. No food substitutions in the menus are allowed since supporters claim that you will only lose weight if you eat the specified foods at the same time. Eating grapefruit at each meal is especially emphasized since it is supposed to contain an enzyme that boosts fat metabolism.
Possible Side Effects
Following the unofficial Mayo Clinic Grapefruit diet can cause short-term side effects like fatigue, constipation, stomach problems, weakness, dizziness and difficulty concentrating, but the long-term side effects may be more serious. The plan is low in fiber, extremely high in fat and, because of its restrictions on dairy products, can cause you to become deficient in essential nutrients like calcium or vitamin D. According to the American Heart Association, diets high in protein and low in fiber are linked to an increased risk of diabetes, cancer, heart disease and high blood pressure.
Expert Insight
According to the official Mayo Clinic site, the most effective diet for both sustainable weight loss and enhanced health is one that emphasizes a wide variety of fruits, vegetables, whole grains and low-fat protein sources as well as regular moderate-intensity exercise. The Mayo Clinic advises dieters to avoid any plan that promises you can lose more than 1 to 2 lbs a week or requires you to eliminate entire categories of food from your diet. They also warn that following the unofficial Mayo Clinic Grapefruit diet strictly could provide as little as 800 calories daily, far below the 1,200 calories that health professionals recommend as the lowest caloric intake consistent with adequate consumption of enough vitamins and minerals to support good health.