Iron, a mineral that helps form red blood cells and carries oxygen through your body, is essential -- within limits. Too much iron can harm the organs that store it, especially the liver, a major storage unit for iron. Ferritin is a protein found within cells that stores iron. Measuring serum ferritin levels can indirectly measure iron stores; high ferritin levels can indicate abnormally high iron levels in the body. But high ferritin levels also occur if you have liver damage. Fatty liver, the first stage of liver damage, often occurs in conjunction with high ferritin levels.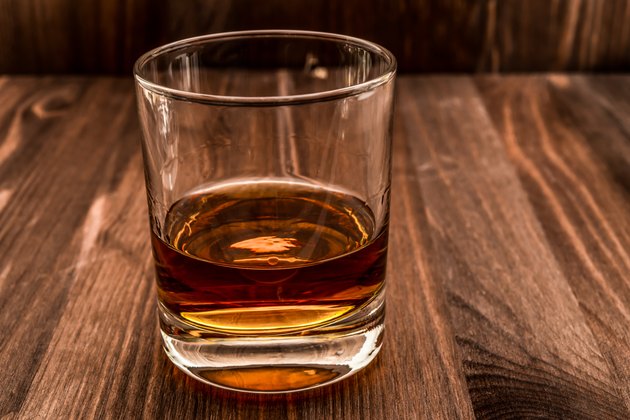 Liver Damage
If you have a disease that damages liver cells, the cells release ferritin into the bloodstream, causing a rise in ferritin levels. Diseases that damage the liver such as alcoholism, hepatitis and obesity can cause high ferritin levels as well as fatty liver. Inflammation in the liver cells can cause fatty liver; high dietary fat intake does not cause this disorder, unless it leads to obesity, which can inflame the liver. Fatty liver in itself generally doesn't cause any symptoms, gastroenterologist Frank Jackson, M.D. of Jackson/ Siegelbaum Gastroenterology explains, but it's the first step in progressive liver damage. Fatty liver can lead to cirrhosis of the liver over time if the cause of the damage isn't found and treated.
Iron Overload and Fatty Liver
Your serum ferritin levels can rise if you have a genetic disorder called hemochromatosis, which affects five out of 1,000 Americans, according to the National Institute of Diabetes and Digestive and Kidney Diseases. Hemochromatosis causes you to absorb more iron than most people, which can raise your ferritin levels.Your body doesn't rid itself of excess iron; it stays in the body. A buildup of iron damages the liver tissues, which can lead to fatty liver.
Studies
Since high serum ferritin levels often occur in conjunction with fatty liver, a hepatic cause for high ferritin should be sought in cases without a known cause. A Norwegian study reported in the October 2008 issue of "PLoS One" found that the majority of 34 people with unexplained hyperferritinemia, or high ferritin levels, had fatty liver and insulin resistance, a condition that can lead to Type 2 diabetes. In the Hemochromatosis and Iron Overload Screening Study, also called the HEIRS study, ferritin was a marker for the presence of hepatitis B or C, principal investigator Paul Adams, M.D. stated in an article published in the May 2008 issue of "Gastroenterology and Hepatology."
Considerations
While it may seem logical to assume that high ferritin levels mean you have too much iron in your body, it's equally likely, if not more likely, that your high ferritin levels come from damage to liver cells that releases ferritin into the bloodstream. Your doctor's next step after finding you have high ferritin levels may be to order more tests to find out if your liver shows signs of damage.