Having clogged arteries puts you at a high risk of developing heart disease and even suffering a heart attack or stroke. Though medications exist to reduce clogged arteries and regulate cholesterol, some people seek a natural approach with apple cider vinegar. Unfortunately, vinegar won't clear clogged arteries and is not a good substitute for standard treatment.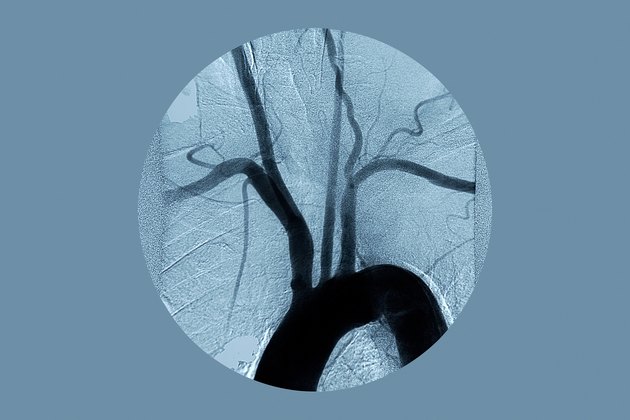 Arteries and How They Become Clogged
The arteries are how blood travels around your body. If you have high cholesterol, it can form a tough substance called plaque that adheres to the walls of the arteries and make the passageways for blood more narrow, according to The Franklin Institute. This puts you at risk for high blood pressure, heart disease, and even death.
Apple Cider Vinegar As a Home Remedy
Apple cider vinegar is used in numerous home remedies and has actually shown to be effective in treating some skin conditions. Most often, it's associated with helping people lose weight and treating high blood pressure. However, according to Health Services at Columbia, apple cider vinegar will do neither of these things and contains no attributes that would help clear cholesterol from the arteries.
Effects on Arteries
A couple of studies have shown apple cider vinegar to have a small effect on cholesterol. According to a study published in "Lipids in Health and Disease," in 2009, apple cider vinegar reduced bad cholesterol in the blood of animal test subjects. However, it did not remove plaque that clogged arteries. Another study published in "Pakistan Journal of Biological Sciences" in 2008, showed that apple cider vinegar could raise good or HDL cholesterol in the blood of lab rats. Again, however, the study did not show that vinegar has the ability to clear arteries that have already been clogged.
Lack of Evidence and Presence of Side Effects
At the moment, there isn't solid evidence to show apple cider vinegar can lower cholesterol in humans, let alone clear clogged arteries. Those that may be interested in drinking vinegar just in case of its purported benefits may wish to think again. According to Health Services at Columbia, apple cider vinegar consumption can cause throat irritation, stomach upset, ulcers, and it may even interact with medications.