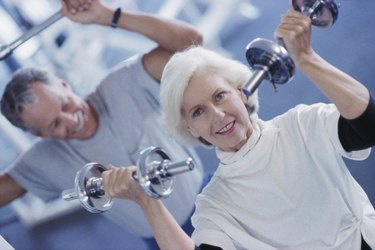 Dumbbells are an essential piece of workout equipment, both at home and at the gym. The many variations in styles and types mean there's a different type for everyone. In most cases, a dumbbell has a 6-inch shaft with a ball or plate on both ends. The size of the plates or balls determines the amount of the weight of each dumbbell – anywhere from 1 lb. to 100 lbs. each.
Iron Dumbbells
Cast iron dumbbells are the most traditional type of dumbbell -- a slightly newer version is the chrome dumbbell. Iron dumbbells are available in several different styles: selectorized, adjustable, and one-piece. The more traditional style consists of a bar with different weight plate options that are added to the bar to make up the dumbbell.
Rubber Dumbbells
Rubber dumbbells are metal dumbbells coated in rubber. They may be fully encased in rubber or simply have rubber-coated balls or plates. The rubber may be synthetic or made from tree sap. Either way, it is flexible and waterproof, and designed to protect your floors if dropped and your hands while in use.
Grips
Both iron dumbbells and rubber dumbbells come in a variety of grips. Straight handles are the most common, but contoured grips, different coated grips and textured grips are all available to suit every preference. Coated grips can help avoid slipping due to sweat; they may also help you avoid fatigue. Contoured grips are conical in shape, which are more ergonomic and cut back on hand fatigue.
Costs
Prices vary among dumbbells and, in most cases, you get what you pay for. A full set of iron dumbbells can cost thousands of dollars, while one or two pairs of low-weight rubber dumbbells under 10 lbs. can cost $20 to $30. Available online, at fitness or sports stores, or at a mass retailer, it's easy to shop around and find a deal that will work for you.
Safety
In general, rubber dumbbells are considered to be a safer choice than iron or chrome dumbbells. However, if you are allergic to latex or sensitive to strong odors, then iron dumbbells may be a better choice for your health. No matter what type of dumbbell you choose, it is important to do the exercises slowly and carefully in order to avoid injury. Pay close attention to your form and try new exercises with the guidance and help of a trainer or spotter. If you strain or stress a muscle, stop and stretch and ice the area if necessary. See a doctor if the pain persists or if you injure yourself.