If you eat fish regularly, you may have a lower risk of developing heart disease, notes the American Heart Association, which recommends consuming at least two 3.5-ounce servings of fish, like catfish, each week. Choose catfish farmed in the United States whenever possible, as farmed catfish is harvested in an environmentally friendly manner and is low in contaminants such as mercury. Pregnant women should avoid consuming locally caught catfish without first checking with advisories about the safety of local seafood.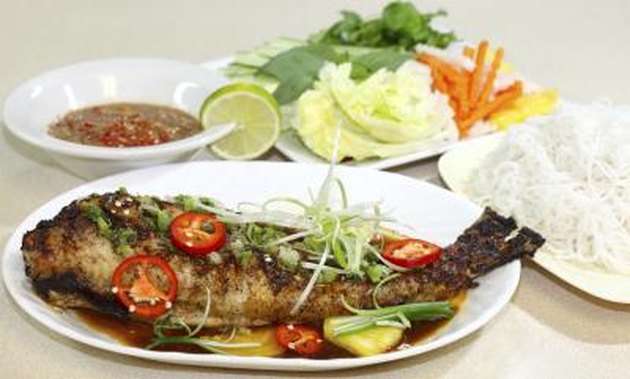 Fat Content
A 3-ounce serving of plain, cooked catfish contains 122 calories, 55 of which are contributed by fat. Per serving, catfish has 6 grams of total fat, which includes 1.3 grams of saturated fat and a trace amount of trans fat. This size serving also contains 56 milligrams of cholesterol, a waxy fat-like substance. Catfish is a rich source of omega-3 fatty acids, with between 0.22 and 0.3 grams in this size serving. Omega-3 fatty acids may help lower your risk of heart disease mainly by lowering triglycerides and countering inflammation, as well as help lower your risk of cancer and arthritis, according to the University of Maryland Medical Center website.
High in Protein
Catfish does not contain any carbohydrates, but it is dense with protein: Approximately 53 percent of the total caloric content of a 3-ounce serving of cooked catfish -- about 63 calories -- is contributed by protein. Consuming 3 ounces of catfish supplies you with 15.7 grams of protein. This amount fulfills 28 percent of the daily protein requirement for a man and 34 percent of a woman's protein needs per day.
Rich in B Vitamins
Catfish is an excellent source of vitamin B-12. Every 3-ounce serving contains 2.3 micrograms of vitamin B-12, or nearly 100 percent of the 2.4 microgram-requirement for adult men and women. Catfish is also rich in the B vitamins, niacin and pantothenic acid. With 2.2 milligrams of niacin per serving, catfish supplies 13 percent of the daily recommended dietary allowance of niacin for men and 15 percent of the RDA for women. Eating 3 ounces of catfish would fulfill nearly 14 percent of an adult's recommended daily intake of pantothenic acid.
Excellent Source of Phosphorus
Catfish contains 210 milligrams of phosphorus in a 3-ounce serving, fulfilling 30 percent of an adult's RDA of the mineral. It also contains 8.4 micrograms of selenium, which is 15 percent of the amount recommended amount for men and women. Catfish contains smaller amounts of potassium, copper, magnesium, iron and zinc.
Healthy Preparation Suggestions
Frying is a traditional preparation method for catfish fillets. However, to keep your total fat, saturated fat and cholesterol intake as low as possible, grill, broil or bake your catfish instead. Drizzle the fish with a mono- or polyunsaturated oil like olive or canola oil and choose low-sodium seasoning options such as fresh herbs, spices or lemon juice to avoid consuming too much salt. Pair catfish with cooked whole grains like brown rice or couscous, steamed fresh vegetables and a leafy green salad.