A T-bone steak is actually two steaks -- a tenderloin steak and a top loin or strip steak -- separated by the large bone that gives the cut its name. Best suited to grilling, sauteing and broiling, T-bone steaks are typically more tender than sirloin, rib-eye or round steak. Certain techniques before cooking can make them even more tender and mouth-watering.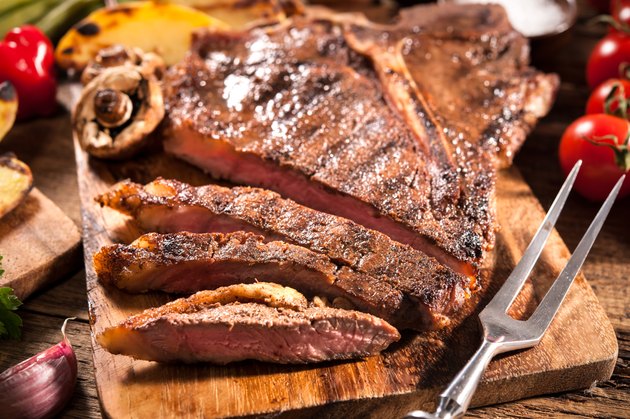 Dry-Brine with Salt
Step 1
Pat the steak dry with paper towels. Spread an even layer of crushed, unrefined sea salt on both sides of the steak.
Step 2
Place the steak on a plate and cover it loosely with plastic wrap. Allow the meat to rest, undisturbed, in the refrigerator. Plan for one hour of resting time for every inch of thickness to allow the salt to denature the proteins and break down connective tissue.
Step 3
Rinse the salt completely off of both sides of the T-bone. Use paper towels to dry the meat and cook as desired.
Marinate
Step 1
Pour a commercial or homemade marinade into a large zip-top plastic bag. Mix in pureed kiwifruit, which contains an enzyme called actinidin that can break down the connective tissue in meat while preserving the steak's texture. Use 1 to 2 tablespoons of the puree for every cup of marinade.
Step 2
Add the T-bone steak to the bag. Seal it and allow the meat to marinate in the refrigerator, turning the bag occasionally, for at least 24 hours.
Step 3
Remove the steak from the bag. Discard the marinade and cook the beef as desired.
Things You'll Need
T-bone steak, thawed

Paper towels

Unrefined sea salt, finely crushed

Plate

Plastic wrap

Cutting board

Marinade, commercial or homemade

Large zip-top plastic bag

Ripe kiwifruit, pureed
Tips
Culinary consultant Marc Matsumoto recommends pureed pineapple or papaya in marinades instead of kiwifruit. Do not marinate steak for too long to avoid making the meat mushy.
Warning
Do not dry-brine T-bone steak overnight.
Do not reuse marinade that has come in contact with raw meat.
If you are on a sodium-restricted diet, avoid dry-brining steak to keep your sodium intake under control.
Always use an instant-read meat thermometer to check that cooked T-bone steaks have reached an internal temperature of 145 degrees Fahrenheit before eating.
Because consuming red meat can contribute to cancer and heart disease, limit yourself to two 3-ounce servings of red meat per week, recommends the Harvard School of Public Health.