Apple cider vinegar may be a common household item but it's also used in numerous home remedies. Only limited research has been conducted on the benefits of apple cider vinegar and even fewer on vinegar pills. While apple cider vinegar may help you to manage certain health conditions, vinegar pills may pose a risk to your health.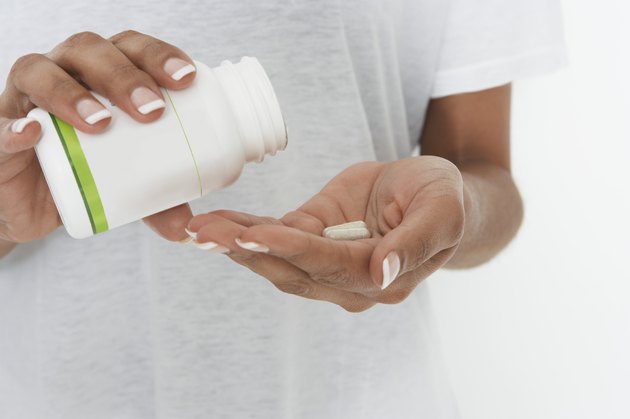 Nutrients of Apple Cider Vinegar
Apple cider vinegar contains many nutrients that can improve your health. According to "Secrets to Lowering Cholesterol with Nutrition and Natural Supplements, Safely," by Art Dash, Ph.D., you can typically find antioxidants, amino acids, fiber, and enzymes in vinegar. Even more nutrients are found in raw or organic varieties that haven't been filtered or pasteurized, according to "Dr. Earl Mindell's Amazing Apple Cider Vinegar," by Earl Mindell, M.D.
Potential Health Benefits
Apple cider vinegar pills may provide health benefits to people who take them regularly. According to a study published in the "Journal of Agricultural and Food Chemistry" in 2011, apple cider vinegar was shown to decrease triglycerides and bad cholesterol in laboratory animals. Of course, these results must still be tested on people to verify the results, but the work is promising. Likewise, Earl Mindell, M.D., notes that apple cider vinegar helps to relieve digestive ailments like irritable bowel syndrome and heartburn.
Dosage and Warning
Consuming liquid vinegar is generally harmless, especially if it's diluted in water. However, apple cider vinegar pills could cause significant health problems. According to the University of Arkansas, many over-the-counter apple cider vinegar supplements indicate dosages ranging from 300 milligrams a day to 500 milligrams three times a day. However, many brands that were tested in the lab contain different amounts of acetic acid than is indicated on their packaging. This could lead to consuming too much, burning your throat or causing ulcers.
Potential Side Effects
Apple cider vinegar as a liquid and in pill form can cause a variety of side effects. According to Columbia University, you may experience throat irritation and tooth enamel erosion. Additionally, drug interactions are possible, especially if you currently take insulin or diuretics.