Well-nourished muscles stay pumped longer. When you workout, your blood vessels dilate as fuel is pumped to provide energy for your muscles. This action causes muscle hypertrophy, or muscle growth, for a short time frame during the workout, and then gradually decreases after the workout. However, by replenishing carb stores and performing specific techniques you can prolong the pump after the workout.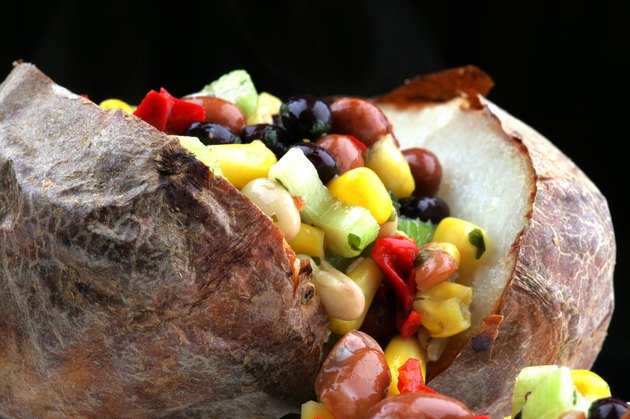 Step 1
Perform various strength training exercises using a high number of repetitions with a low resistance setting. The higher number of repetitions increases heart rate and blood flow to the muscles for an increased pump.
Step 2
Consume a protein shake immediately after the workout. The shake contains a blend of carbohydrates and protein that starts the recovery process and minimizes muscle breakdown. Sample ingredients include fruit juice or milk blended with fresh fruit and a scoop of protein powder. The nutrients within the supplement support muscle development and prolong your pump.
Step 3
Eat a full meal shortly after the workout that contains complex carbohydrates. The best sources of complex carbohydrates for keeping your pump include baked potatoes, yams, brown rice, pasta and other sources of whole grains.
Step 4
Drink plenty of water during and after the workout. Staying hydrated makes sure the muscles have the right water balance to keep the pump.
Step 5
Stay relaxed throughout the day. As your stress level increases, your body releases the hormone cortisol into your bloodstream, which causes loss of the muscle pump.