Pomegranates, the ruby red fruits with the jewel-like, juice-filled seeds, can be used fresh in salads and as a garnish, or they can be juiced to make a dark red drink. Both methods of consumption allow you to get the nutritional and antioxidant benefit of this "superfood." As little as 3 1/2 ounces of pomegranate juice per day can provide some antioxidant benefit.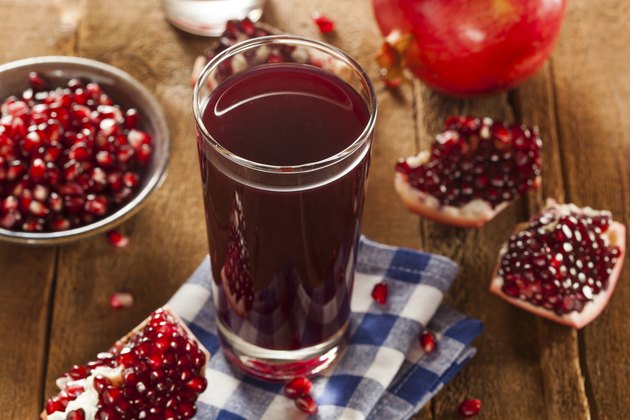 General Recommendation
According to the University of Maryland Medical Center, pomegranates are safe for regular consumption, and while there is no recommended dose, drinking 8 to 12 ounces of juice per day is safe. An 8-ounce serving of commercial pomegranate juice has 134 calories per serving, while fresh pomegranate juice, which is made by juicing 1/2 cup of fresh seeds and adding in 1/3 cup of water, has only 72 calories per serving. Both juices are low in fat and protein.
As Part of Your Fruit Intake
The U.S. Department of Agriculture recommends that you eat 1 1/2 to 2 cups of fruit per day, which can be either fresh fruit or fruit juice, so both pomegranate seeds as well as the juice count. Drink pomegranate juice plain or over ice or mix it into a smoothie. For variety, use the juice to flavor homemade salad dressings or marinades.
For Antioxidant Benefits
Pomegranates are naturally rich in antioxidants, which can protect your body from damage from free radicals and toxins, potentially reducing your risk of cancer or heart disease. In a one-year study published in 2012 in "Free Radical Biology and Medicine," researchers found that drinking around 3 1/2 ounces of pomegranate juice each day led to less oxidative stress, reduced inflammation, improved heart health and fewer cases of infection. Another study published in 2001 in "Atherosclerosis" found that drinking a little over an ounce of pomegranate juice a day for two weeks led to lower blood pressure levels.
Added Sugar
One of the key dangers in choosing commercial pomegranate juice rather than pure or fresh juice is that many commercial products contain added sugar to hide the natural sourness of pomegranates. A 1-cup serving of commercial pomegranate juice has 31.5 grams of sugar, while a 1-cup serving of fresh pomegranate juice has only about 12 grams of sugar. The American Heart Association recommends having no more than 100 to 150 of your daily calories coming form added sugars because a diet high in added sugars increases your chances of weight gain. Foods that are sweet from natural sugars, such as fresh pomegranate juice, are considered healthier than those sweetened with added sugar. This is because added sugar has no nutritive value, while foods that contain natural sugars also contain other nutrients.