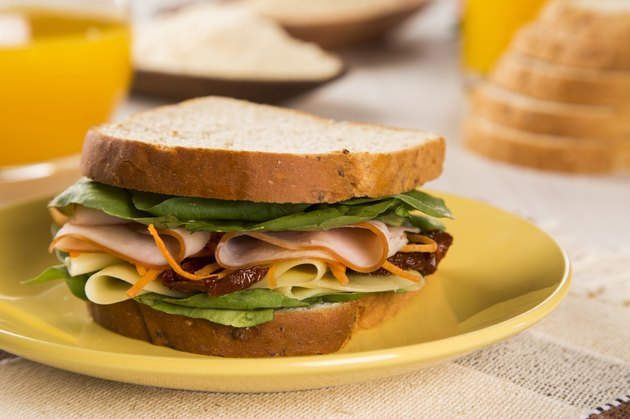 Counting Weight Watchers points is a good strategy to improve your food choices, reduce your overall calorie intake and slim down. Instead of fussing with calories, the goal is to remain within your target points range each day. Everyone has 26 daily points allowance as the minimum and 49 weekly bonus points, if you want to splurge. A crucial part of sticking to a healthy eating plan is being prepared. When you're trying to eat healthy and are away from home, it helps to pack a meal. Whether you're on the go or working in an office, it's a good idea to have a nutritious lunch handy. Learn how to pack a healthy, Weight Watchers-friendly lunch that will keep you satisfied, without sacrificing all of your points.
Packed Sandwiches Ideas
Sandwiches are a staple when it comes to packed lunches. They're convenient for when you don't have access to a microwave while on the go and they don't require utensils, making them easily mobile.
As a rule of thumb, the serving size is 3 ounces for meat and 1 tablespoon for condiments. When building sandwiches for your packed lunch, load on leafy greens and other non-starchy veggies, as they're zero points.
Try a grilled chicken sandwich for a total of seven points. Stack the grilled chicken breast, two slices of whole-wheat bread, lettuce, tomatoes, onions and reduced-fat mayo.
Go for a pastrami sandwich made with two slices of rye bread, mustard, pickles, red peppers, onions and mozarella, for a total of nine points.
Try Weight Watchers' virtual sandwich stacker if you need help strategizing.
Quick Lunch Wraps
Wraps are another easy make-and-take lunch idea that pack and keep well. Low-carbohydrate tortillas account for fewer points than bread, so you can have more than two. Try using protein left over from a previous dinner, if you have to pack in a hurry.
Pack a chicken-and-chile wrap for a PointsPlus value of eight. For this, use a grilled poblano pepper to spice up your wrap and stuff four, medium whole-wheat tortillas with lettuce, 1.5 ounces of grilled chicken, chives and a half of a medium-sized avocado sliced.
Wrap it up veggie style for a low-point lunch. These are perfect for days when you don't have a lot of points to spare. Stuff two low-carb tortillas with your favorite zero-point veggies such as spinach, mushrooms and broccoli. Use mustard as a zero-point condiment. You'll only have to count the low-carb tortillas, so this wrap comes out to four points.
On-the-Go Salads
Another quick-and-easy lunch to pack is salad. Using meat and seafood like shrimp and roast beef means you don't need access to a microwave. Enjoy these salads cold.
For a filling, grilled shrimp salad, grill 2 ounces of shrimp and toss it with your favorite mixed greens and balsamic vinegar -- 2 tablespoons. Add some fresh herbs such as oregano and thyme for a total of two PointsPlus values.
Opt for a roast beef salad by tossing mixed greens with 1 ounce of roast beef; slice thinly. Add 1 teaspoon of olive oil and balsamic vinegar and 1/4 sliced avocado, along with 2 tablespoons of mozarella made from skim milk. For a sweet contrast, add 1 tablespoon of dried cranberries for a total of six PointsPlus values.
Easy Pasta Lunches for Weight Watchers
Pasta is yet another easy lunch idea that packs and keeps well, and one you can eat cold if you don't have a way to heat your lunch. You can make these the night before or you can even use left over pasta. As a general rule, use 4 ounces of whole-grain pasta.
Pack a hearty vegetable salad and take advantage of zero-point veggies by adding your favorite roasted vegetables to whole-grain pasta. Flavor with some chopped herbs such as parsley, thyme and basil for a PointsPlus value of two.
Opt for a tuna salad, by combining 1/4 cup black or white beans with 1/4 cup canned tuna, 1/4 cup of fat-free mozarella and 1/2 cup of grape tomatoes. Toss in 10 black olives and drizzle with 2 tablespoons of fat-free Italian dressing for a PointsPlus value of six.