Parties, reunions and looming summer days can send you into a state of concern over looking your absolute best, especially if you're carrying excess weight in your buttocks and stomach. It is possible, however, to lose fat and tone up those areas in as little as two weeks. You can trim down and tone up trouble zones if you stick with a consistent exercise routine and healthy diet. Do toning exercises five to six times per week to maximize results and allow one day of rest for muscle recovery.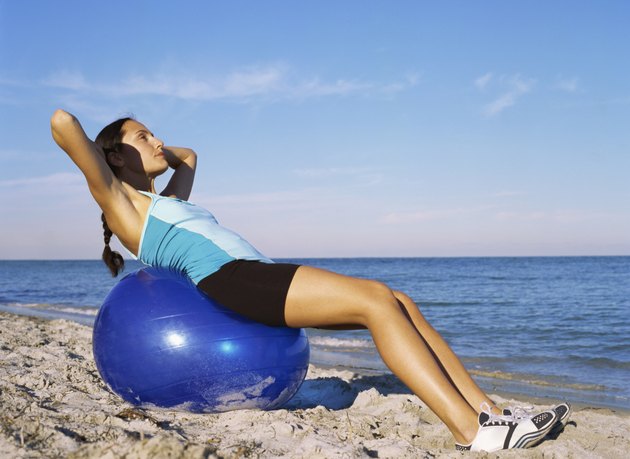 Man the Plank
The plank exercise tones the abdominal muscles as well as the hip flexors and shoulders. Start this exercise by lying face-down on the floor with hands underneath your shoulders. Lift yourself up so that you are resting on your toes and forearms, with elbows underneath the shoulders and palms facing down. Contract your abs as you maintain a straight line from head to toe. Hold for 20 to 30 seconds and repeat three times. Progressively increase hold times to 30 to 60 seconds as you get stronger.
Hold the Bridge
The bridge exercise tones the buttocks, inner thighs and outer thighs. Lie flat on your back on a mat with both knees bent to about 90 degrees. Arms should be resting by your sides, palms facing down. Push down into your heels as you squeeze your gluteal muscles, peeling your glutes off of the mat and toward the ceiling. Avoid excessively arching your back as this decreases glute activation and could lead to injury. Hold the position for five to 10 seconds before lowering. Do three sets of 10 to 12 bridges.
Super Slim Squats
Squats offer a way to tone the abs and the entire lower body, including the glutes and thighs. Do this exercise with a light weight to increase resistance and muscle tone. Stand tall with feet shoulder-width apart and a weight in each hand. Keep the abdominals contracted as you bend your knees and stick your buttocks out to lower into a squat. The knees should not extend past the toes. Return to the starting position and repeat 10 to 12 times or until fatigue sets in. Do three sets.
Crazy Cardio
Cardio exercise will help you lose excess weight that hides your stomach and butt muscles. Do a 45-minute session of cardio five times a week -- three of them at a moderate intensity. During the other two sessions, throw in a few hard intervals -- such as sprinting for 30 seconds to a minute followed by a minute of recovery during the middle of a run or a cycling session. Repeat intervals five to 10 times. High-intensity interval training burns calories for hours afterward. Repetitive movement of the legs, glutes and abs during cardio also tones muscles.