Probiotics, the healthy bacteria and fungi available in some foods and supplements, may help alleviate digestive ailments, including constipation, gas and diarrhea. They might also boost your immune system and promote weight management. Scientists believe probiotics work by helping to repopulate bacterial colonies in the intestines, by changing the way your gut bacteria operates and by adjusting gastrointestinal pH and stimulating immune cells. Fermented dairy products, particularly yogurt, are good sources of these healthy bacteria. Eating any amount of yogurt provides some probiotics, but how much yogurt you need to consume to get a significant health benefit isn't clear.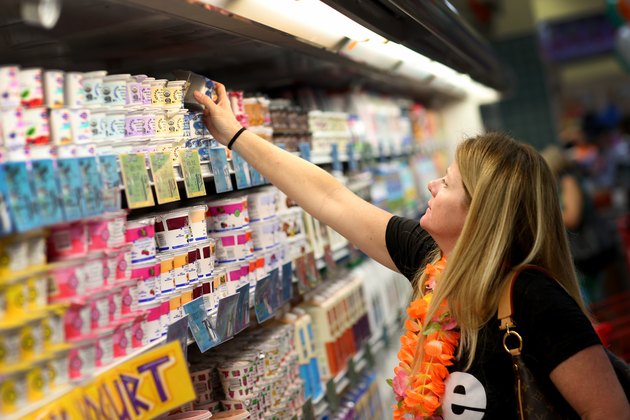 Quality Control
Yogurt only contains probiotics if the label specifies that it "contains active, live cultures." Any type of heat pasteurization or sterilization kills the bacteria, rendering it useless. "Today's Dietitian" notes that organic varieties of yogurt are usually best because they're typically not heat-treated after fermentation. Even if your yogurt contains active cultures, be aware that various brands of yogurt contain different strains of bacteria. Researchers aren't sure how these wide-ranging strains affect people – some strains may be more effective than others, or certain strains may be more helpful for certain people.
Yogurt Amounts
Because the amount of probiotics in a serving of yogurt varies from brand to brand and batch to batch, it can be difficult to estimate the amount of probiotics a serving provides. In one study of the Activia brand of yogurt, which features a trademarked bacteria known as Bifidus regularis, participants consumed 2 units – the equivalent of 8 ounces – daily for 14 days and experienced improvements in their constipation symptoms. But hundreds of different products and strains of probiotics are available in yogurt, and most haven't been specifically studied, reports National Public Radio. So judging how much probiotics you're consuming in yogurt is still difficult.
Probiotic Dosing
Yogurt labels don't list a precise amount of colony-forming units, the dosing unit for probiotics, of the particular probiotic strain that's in each serving. "Consumer Reports" noted in 2011 that most yogurt products contain a wide range, from 90 billion to 500 billion CFUs per serving. Even if the dose of probiotics in one serving of yogurt were listed on the label, the amount you may need to address a specific ailment depends on multiple factors, including your size, the type of probiotic you consume and your ailment. For example, Lactobacillus acidophilus – the most commonly used probiotic – may be recommended in dosages from 1 billion to 15 billion CFUs per day, according to the University of Maryland Medical Center.
Bottom Line
Adding yogurt to your diet provides you with vitamins, minerals and high-quality protein, along with probiotics. It's unclear if intermittent yogurt consumption provides a positive probiotic boost to your system, Dr. Kirsten Tillisch of the University of California, Los Angeles, told National Public Radio in 2012. So if you have digestive problems, you may need to try a specific brand and strain of probiotics for a few weeks to determine if it helps you. Speak to your health care provider to determine what dosage may be right for you, and be aware that taking 1 billion to 2 billion CFUs might result in negative side effects, including bloating and diarrhea.