One of the most pervasive myths in the weight-loss world is the concept of spot reducing, or exercising a specific part of your body to lose weight from there alone. Actually, you lose weight by using more calories than you consume, not by doing endless leg lifts or squats to slim down your thighs. In fact, all those leg exercises may add more bulk to your thighs by overdeveloping the muscles. To shrink your thighs but keep your buttocks round and firm, eat fewer calories, exercise regularly and tone and stretch your lower body.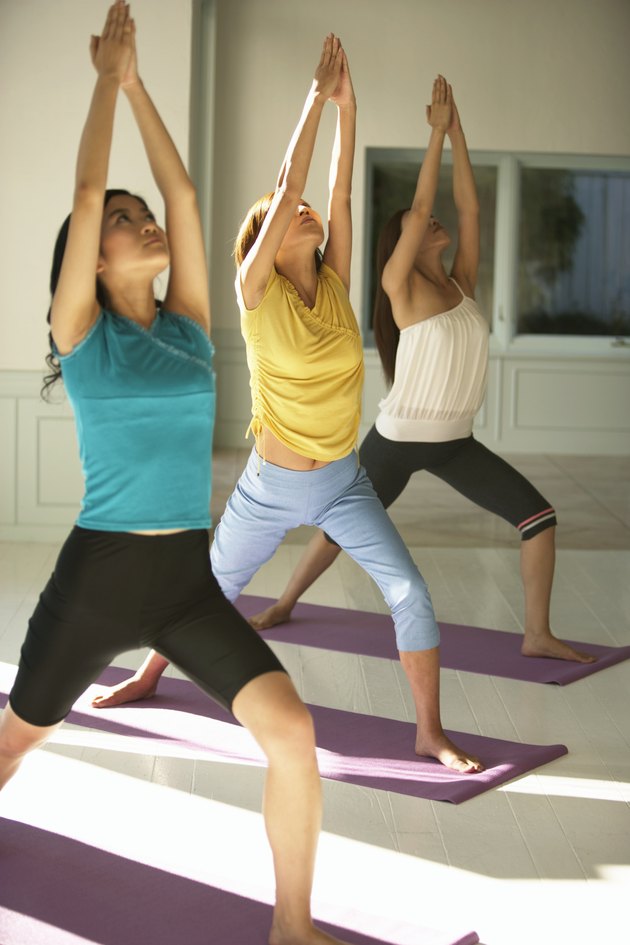 Slim Your Thighs
Step 1
Begin an exercise routine that includes at least 150 minutes of cardio each week. The more cardio you do, the more calories you'll burn and the more weight you'll lose. Try walking, jogging, running, cycling, swimming or using an elliptical machine. Vary your workouts to work different muscle groups and prevent boredom.
Step 2
Replace processed foods, sugary foods and high-fat foods with healthier alternatives. Base your diet around fruits and vegetables, whole grains, chicken, fish, beans, eggs, nuts and low-fat dairy. Drink plenty of water, and avoid soda and alcohol.
Step 3
Practice yoga or Pilates. These disciplines strengthen and tone your entire body, including your thighs and glutes. You lengthen and stretch the muscles at the same time, which stops you from bulking up. Practice at least twice each week to develop long, lean thighs and a curvy booty.
Tone Your Buttocks
Step 1
Lie on the floor with your knees bent at a 90-degree angle and your feet flat. Raise your hips until they are in line with your knees, tighten your buttocks and hold the position for a breath. Lower your hips back to the floor, and repeat the exercise for one minute.
Step 2
Stand with your feet just wider than your shoulders and your toes pointing diagonally outward. Keeping your back straight, slowly bend your knees over your toes and lower your hips into a squat. Lift your arms in front of you as you descend. Return to standing and repeat, or hold the squat for 40 to 60 seconds.
Step 3
Stand with your feet shoulder distance apart. Lower your hips into a squat while stepping widely to the side with one foot. Hold the position for five seconds, then slide your extended foot back toward you as you return to standing. Repeat, alternating sides, for 20 reps on each side. To make this exercise harder, hold dumbbells in each hand or balance a weighted body bar on your shoulders.
Step 4
Perform your strengthening routine on alternate days to give the muscles time to rest and heal between workouts.
Tip
Talk to your doctor before making major changes to your diet or lifestyle.
Warning
Never extend your knees past your feet in a squat or allow your knees to drift inward or outward. Always keep your knees in line with your toes.