When you want to lose weight and keep it from coming back, you need to lose it the healthy way. While you may be tempted to try one of those crash diets like the shake diet your friend is on, in the long run it's not the best way to go. To lose weight, you need to eat three square meals plus two small snacks throughout the day. As a teen girl, you might eat most of your lunch meals away from home, and having a list of healthy options can help with your weight loss efforts.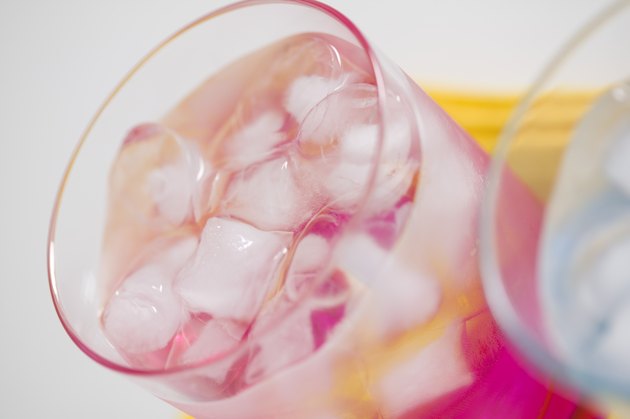 Brown Baggin' It
Bringing your lunch to school might be the easiest way for you to control calories and make sure you eat healthy. A healthy brown bag lunch should include whole grains, protein, fruit, veggies and dairy. Some healthy options might include a turkey sandwich with an orange, carrot sticks and a fat-free yogurt; whole-grain pasta salad made with mixed veggies, diced chicken and low-fat cheese with some grapes; or hummus, whole-grain pita, sliced cucumbers, an apple and a carton of skim milk.
Out With Your Friends
You don't have to stress about your diet when going out to eat with your friends. There are plenty of healthy options to choose from when you're trying to lose weight. At a sandwich place, keep your portion small and load your sandwich with veggies, skip the cheese and use mustard as your condiment; round out your lunch with yogurt and water. Pizza is no problem when you top it with your favorite veggies, and instead of eating two slices, add a salad and a seltzer water to keep you full. At a restaurant, order an entree salad with dressing on the side or a broth-based soup such as chicken noodle or minestrone, or if you order a meal, take half of it home and eat it for dinner.
School Lunch Options
As far as health goes, school lunch makes a good option if you don't have time to make your lunch in the morning. New regulations require schools to offer students more whole grains, fruits and vegetables, and the calories for the meal are limited to 850 calories for grades nine through 12. Like your bagged lunch, to keep your school lunch meal healthy, include a whole grain, protein, fruit, veggie and dairy. Keep a menu on your fridge or in your locker so you can plan ahead.
When You Get to Eat at Home
Whether it's the weekend or a holiday off from school, you want to continue to make healthy lunch choices to help with your weight loss. A healthy and easy at-home lunch meal might include a toasted turkey sandwich with tomato soup, fresh melon and a fat-free yogurt. Breakfast for lunch also makes a healthy option, such as a bowl of whole-grain cereal with skim milk and a banana, with a boiled egg for some protein.