Creatine is an amino acid that may help athletes build lean muscle mass. The human body naturally produces creatine and absorbs it from meat and fish, but many athletes also take supplements to boost their muscle development. Although the University of Maryland Medical Center states that creatine supplements are generally safe when taken properly, you should consult your doctor before taking creatine or beginning any diet and exercise plan. While creatine may help you develop ripped abs, a proper diet to reduce your body fat and hard training are necessary to reach your goal.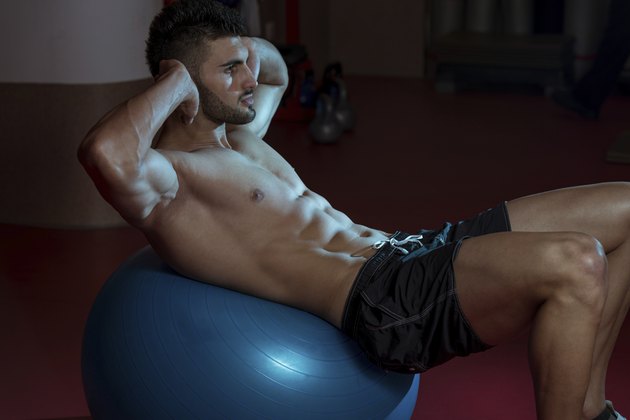 Step 1
Take a total of 20 grams of creatine daily for two to five days, according to the University of Maryland Medical Center. Divide it into four doses of 5 grams each and space the doses four to six hours apart through the day. This high creatine intake is called the loading dose, and it primes your system to metabolize and utilize a lower dose later.
Step 2
Reduce your creatine dosage to 2 to 5 grams daily after the first few days. This amount is considered safe for long-term usage. The University of Maryland Medical Center recommends a dose of 2 grams daily.
Step 3
Drink fruit juice or eat starchy food when you take your supplements. According to the University of Maryland Medical Center, creatine may be more effective when taken with carbohydrates.
Step 4
Perform abdominal-building exercises every other day while taking creatine. Do crunches, situps, bicycle crunches, hip curls and Pilates workouts to tone your core. Ask a trainer for exercises to strengthen your outer and inner abs, obliques and lower back.
Step 5
Consume approximately 0.7 grams of protein each day for each pound of body weight. Eat lean meat, fish, eggs, low-fat dairy, beans and soy products to get the protein you need. A diet high in protein helps support muscle development.
Step 6
Monitor yourself for possible side effects, including anxiety, headaches, loss of appetite, muscle cramps or nausea. Stop taking the supplement immediately if you show any symptoms of side effects and consult your doctor.
Tip
Talk to your doctor before beginning an exercise routine or changing your diet. Ask your doctor whether creatine is safe for you, especially if you take other medications. Creatine is ineffective for 20 to 30 percent of the population. Stay well-hydrated while taking creatine to limit your risk of side effects.
Warning
If you develop asthmatic symptoms or shortness of breath, stop taking the creatine and see your doctor immediately; you may be having an allergic reaction to the supplement. Don't take anti-inflammatory drugs or caffeine while you are on creatine. Don't exceed the recommended dosage of creatine or continue taking the loading dose for more than seven days. Only buy creatine supplements from recognized brands.