Whiting can refer to a number of different species of fish, including Pacific, Japanese and English whiting, as well as King George, sand and red spot whiting. Fish has much to recommend it as a source of protein and nutrients, but some fish are tastier than others. There are also other things to worry about besides taste when it comes to fish and seafood.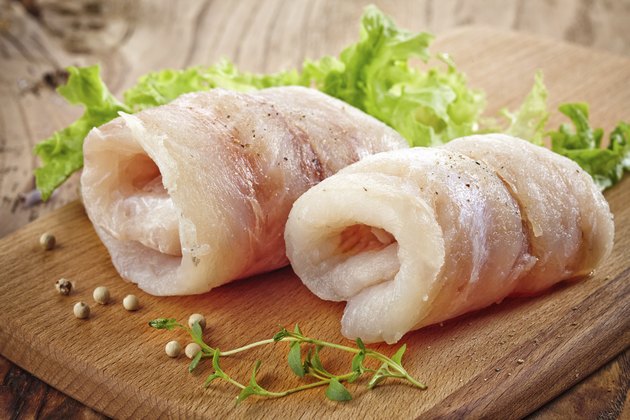 Nutrients
Whiting fish supplies important nutrients, including protein and a small amount of fat. A 3-ounce serving contains about 15 grams of protein, with about 1 gram of fat, some of which is healthy, omega-3 fatty acids that help protect your heart from disease. It also contains several minerals, including about 40 mg of calcium, 18 mg of magnesium, 190 mg of phosphorus and 200 mg of potassium per 3-ounce serving. It's also a good source of several vitamins, including several of the B vitamins and vitamin D. It's especially rich in vitamin A, with 85 international units per serving.
Physical Characteristics
Whiting fish inhabit many habitats and have a variety of physical characteristics. There are 13 species common to Australian waters alone. As with any fish, the species and the waters in which they are caught can affect the flavor. Whiting are generally regarded as mild-flavored, white-fleshed fish with a firm texture. Fishermen enjoy whiting both as a food source and as sport fish that grab the lure hard and put up a good fight.
Preparation
Just as a real meat-eater appreciates some cuts of beef with nothing more than salt and pepper, a true fish-lover prefers to savor some fish for the taste alone. Try preparing whiting as simply as possible, so as not to overwhelm the subtle flavor of the fish. One low-fat method is to poach whiting fillets in dry white wine and serve them with lemon.
Good to Eat
Whiting tastes good, and is considered safe to eat on a regular basis. If you've had any imitation crab lately, chances are you have already eaten whiting. One of the most abundant species is Pacific whiting, also known as hake. Many hake are used to produce a minced-fish product called surimi from which imitation crab is formed.
Mercury and Environmental Concerns
The National Resources Defense Council publishes a consumer guide on the levels of mercury in fish and identifies those that are either perilously low in numbers or caught using environmentally destructive methods. Whiting is listed as a fish to enjoy, because it's plentiful and among those with the lowest mercury levels. The National Marine Fisheries Service reports that Pacific whiting is being harvested sustainably and not in any danger of over-fishing.