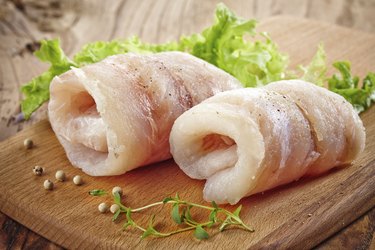 Whiting fish, not to be confused with all types of white fish, is a commonly consumed seafood found in the Atlantic and Mediterranean. The term, however, can refer to a number of types, including pacific whiting, trumpeter whiting and sand whiting, according to Queensland Government.
Fish in general makes for a healthy source of lean protein and, luckily, whiting is a species low in mercury that can be consumed with confidence.
What Is Whiting Fish?
Pacific whiting fish is one of the most popular species of whiting caught in the U.S., according to the National Oceanic and Atmospheric Administration (NOAA). Round in shape and silver in color, pacific whiting can grow up to three feet in length and live to more than 15 years old. Caught around Washington, Oregon and California, pacific whiting is typically mild and slightly sweet in taste, according to the NOAA.
Silver hake (whiting caught in the Atlantic) is wild-caught from Maine to South Carolina, according to the NOAA. Silver hake, like the pacific whiting, can be eaten either raw or cooked and is white or off-white in color.
Is Whiting Fish Healthy to Eat?
Whiting fish is a good source of vitamin B, magnesium and protein, according to the NOAA. Each 100-gram serving of whiting (the size of a standard filet) is 90 calories and contains roughly 18 grams of protein with about 1 gram of fat, making this a healthy lean protein choice. A whiting filet has only about 67 milligrams of cholesterol and 72 milligrams of sodium.
How To Prepare Whiting Fish
Before you prepare your fish, be sure that it's fresh and safe to eat. Make sure any smell is fresh and mild, not too fishy. If you bought a whole fish, the eyes should be clear and shiny, and fillets should display no discoloration, according to the Food and Drug Administration (FDA). All seafood should be either refrigerated or frozen soon after purchase and, if fresh, should be used within two days of purchase.
Just as a meat-eater appreciates quality cuts of beef with nothing more than salt and pepper, a true fish-lover prefers to savor some seafood for the taste alone. Try preparing whiting as simply as possible, so as not to overwhelm the subtle flavor of the fish. One low-fat method is to poach whiting fillets in dry white wine and serve them with lemon.
Mercury and Environmental Concerns
Whiting fish is low in mercury and is safe to consume two to three times per week, according to the FDA. However, if you're catching the fish yourself, check for any fish advisories in the area. If you find that there are no local warnings, eat only one serving of the fish you caught and no other fish that week.