Nearly one in four people with gout mistakenly believe that natural remedies like apple cider vinegar can treat the disease, according to the Alliance for Gout Awareness. However, there is no scientific evidence that drinking apple cider vinegar for gout can cure or eliminate the disease.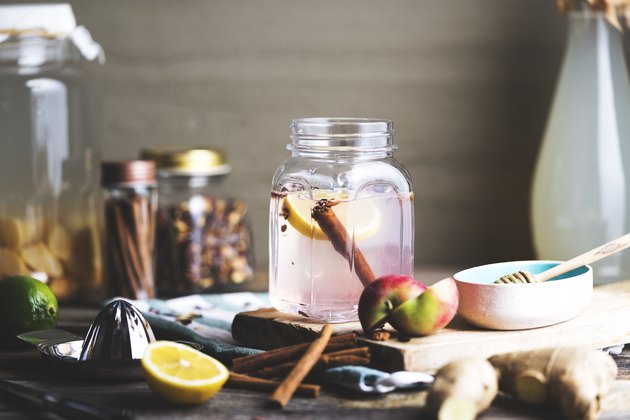 Tip
Although some believe that apple cider vinegar can be beneficial for people with gout, there are no scientific studies evaluating the efficacy of drinking apple cider vinegar for gout treatment.
What Is Gout?
Gout occurs when too much uric acid accumulates in the blood, thereby causing urate crystals to form in the joints. Your body produces uric acid when it breaks down purines, which are compounds that occur naturally in your body and are also found in foods such as beer, red and organ meats and seafood.
Risk Factors for Gout
According to the Mayo Clinic, there are several risk factors that increase uric levels in the blood and make you more likely to develop gout. A diet rich in purines and drinking sweet beverages that contain high-fructose corn syrup increase levels of uric acid in the body. Drinking alcohol also increases your chances of developing gout.
Being overweight increases your chances of developing this form of arthritis as well. This is because if you are obese, your body produces more uric acid. Your kidneys have a more difficult time eliminating this extra load.
Family history of gout, recent surgery or trauma and certain medical conditions like high blood pressure, diabetes and heart and kidney diseases also increase your chances of developing gout. Certain medications ⁠— such as low-dose aspirin, thiazide diuretics and drugs prescribed for those who have undergone an organ transplant ⁠— can as well.
Though gout occurs in men more often than in women, women are more likely to develop the condition after menopause, when their uric levels approach that of men's. Men are more likely to develop gout at a younger age ⁠— most often between the ages of 30 and 50.
Diet and Gout
According to the Gout Education Society, eating a healthy and balanced diet may help decrease uric levels by up to 1.0 milligrams per deciliter. When you get a uric acid blood test, it measures uric acid in milligrams and blood in deciliters. People living with gout should aim for a daily uric level of 6.0 milligrams per deciliter or below.
The Gout Education Society recommends that you make the following dietary changes if you have gout:
Eat a plant and grain-based diet, high in low-fat or non-fat dairy products, fresh vegetables and fruit, nuts and grains.
Limit eating purine-rich foods such as beer, red meat, lamb, pork, organ meats and seafood, especially shrimp, lobster, anchovies and sardines.
Reduce your intake of high-fructose corn syrup, which is a common sweetener found in soft drinks, candy, cookies, cereals and baked goods.
Drink plenty of water and exercise regularly.
Take a vitamin C supplement in the 500 to 1,000 milligrams per day range.
Keep in mind that the potential uric level reduction brought on by a healthy diet is not enough to treat gout once a patient has been diagnosed. Even when consuming a low-purine, healthy diet, it is still important to take daily medication prescribed by your gout specialist or rheumatologist.
Apple Cider Vinegar for Gout