Carrying extra weight in the waist area is detrimental to your health because of its proximity to the major organs. Losing this weight while maintaining your hips and butt takes a little precision. Exercise plays a major role, but you also have to make a few tweaks to your diet. The effectiveness of this two-pronged approach is going to rely heavily on your willingness to make sacrifices and discipline level. Be aware that spot reduction is not possible.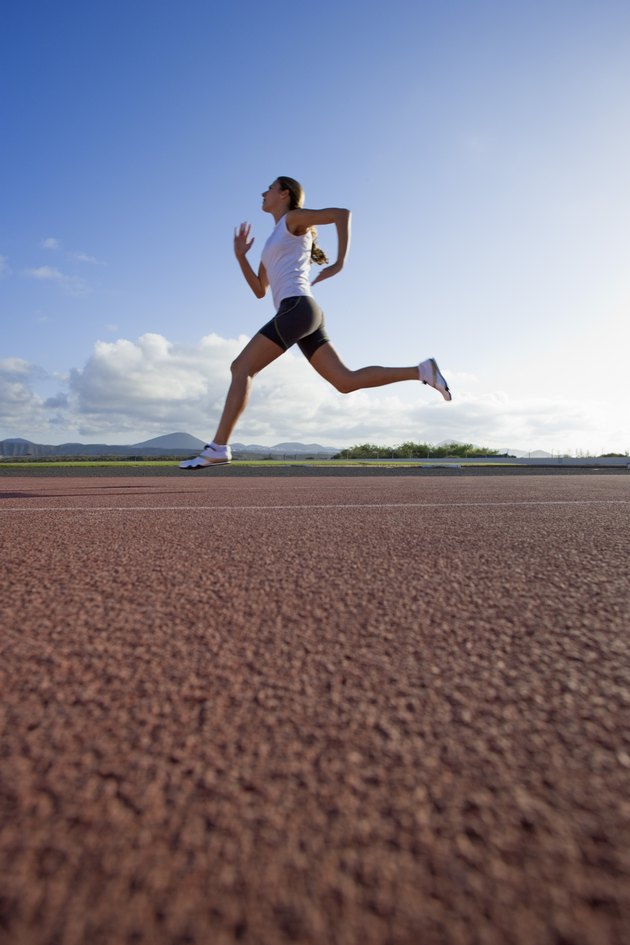 Step 1
Cut back on your daily intake marginally to promote weight loss. Monitor your current intake for five days, add the totals up and divide by five to get a rough estimate of your current daily intake. Reduce this amount by 500. This will cause about 1 pound of weight loss a week in your waist and throughout the rest of your body.
Step 2
Eat healthy foods and multiple meals throughout the day. Feeding your body frequently will keep your metabolism elevated and hunger satisfied. Consume your first meal when you first get up and continue to eat every 2 to 3 hours thereafter. Base these meals around healthy foods like fruits, vegetables, whole grains, beans, lean meats, fish and low-fat dairy products. A whole wheat pita with low-fat cheese, lettuce and tomato is a quick, healthy meal.
Step 3
Burn fat in your waist and through the rest of your body with sprints. Sprint training burns a high amount of calories, it boosts your metabolism and it forcefully works your muscles to keep them toned and defined. Start your workouts with a light five-minute warm-up jog to slowly raise your core body temperature. Sprint as fast as you can for 20 seconds, then rest for 40. Do another sprint and repeat this sequence 12 to 15 times. Finish with a light five-minute cool-down jog and work out three days a week on nonconsecutive days.
Step 4
Perform weight training exercises for your hips and butt to bulk your muscles. Do exercises like squats, lunges, stepups, seated hip abduction and standing cable hip abduction. Use a weight that is so heavy you can only do eight to 12 reps. Aim for four or five sets and work out three days a week on non-cardio days. Hold dumbbells at your sides for squats, lunges and stepups, and adjust the weights on the seated abduction and cable machine by sliding a pin into the weight stack. Make sure to use proper form with your exercises to achieve the best results. For squats, stand with your feet about shoulder-width apart and hold dumbbells at your sides. Keep your abs tight and back straight as you bend your knees and lower your body down. Push your butt back as you do this and stop when your thighs parallel the floor. Rise back up in a steady motion and repeat.
Step 5
Exercise your waist area to make it toned and tight as you lose weight. Do exercises that target all areas of the waist like hanging knee raises, twisting crunches, side plank raises, supermans and v-ups. Perform 15 to 20 reps, do 3 or 4 sets and work out 3 or 4 days a week. Pay attention to your technique. It's important that you squeeze your abs forcefully at the midpoint of the exercise. For v-ups, lie face-up on the floor with your arms extended behind your head and your legs together. Lift your arms and legs in the air and move your hands toward your feet. Balance on your butt for a full second while touching your hands to your toes. Squeeze your abs forcefully, and then slowly lower yourself back down and repeat.