The best-known effects of caffeine include tremors, nervousness and fast heartbeat. However, other symptoms, including nausea and vomiting, are also possible. The recommended amount of caffeine is no more than 300 milligrams per day, according to MedlinePlus. Side effects often appear after you exceed 500 to 600 milligrams per day.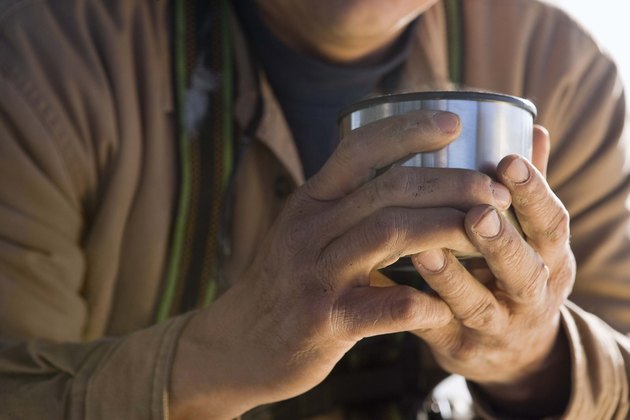 Reactions to Caffeine
Most people can drink small amounts of coffee with no problems. However, some people might experience gastrointestinal distress when consuming caffeine. Nausea, vomiting, diarrhea and abdominal cramps are possible, according to MedlinePlus. If the vomit contains blood, this could be a sign of a caffeine overdose, so you should see a doctor immediately.
Caffeine Withdrawal
A study by Johns Hopkins Medicine researchers published in the October 2004 issue of "Psychopharmacology" shows that caffeine withdrawal can cause nausea, vomiting, fatigue, muscle pain and a number of flu-like symptoms. The more caffeine you drink, the more intense the withdrawal symptoms will be. In some people, withdrawal symptoms can last for up to nine days following the last ingestion of caffeine.
Overdose
According to a 2005 report published in the "Forensic Science International" journal, a caffeine overdose can cause vomiting, arrhythmia, convulsions and even death. Caffeine overdose is rare, and fatalities require an ingestion of about 5 grams. The average cup of coffee contains less than 0.2 grams.
Drug Interaction
Caffeine can interact with a number of prescription drugs and either worsen the original side effects of the medication or cause new ones. If you're taking a prescription drug, talk to your doctor about how much caffeine is safe. Possible interactions include estrogens, quinolone antibiotics, some antidepressants, alcohol antagonist drugs and platelet inhibitors.