Whether the nutrients you consume affect the quality of sleep is a new field of research, according to Sleep Medicine in January 2008. Studies published since then report that lack of vitamin C may cause shorter and nonrestorative sleep. While more studies are needed to verify its relationship to sleep, taking vitamin C may be beneficial if you don't get enough through your diet.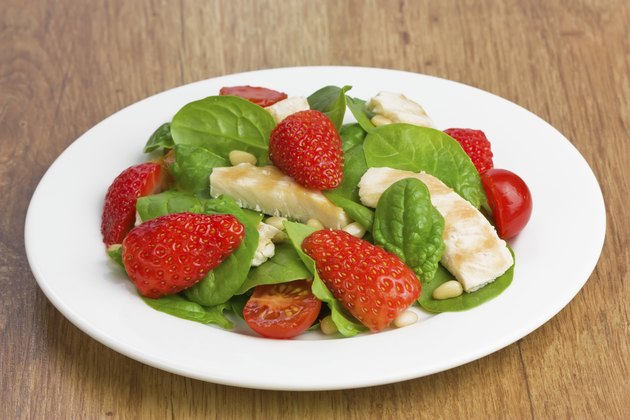 Impact of Low Vitamin C
When researchers from the University of Pennsylvania reviewed data from the National Health and Nutrition Examination Survey, they found that people who consumed smaller amounts of vitamin C only slept for five to six hours nightly, according to their study, which was published in Appetite in May 2013.
Another group of researchers tested blood levels of vitamin C in survey participants. According to their report in the August 2014 issue of PLoS One, people with low blood levels of vitamin C had more problems with sleep disturbances, such as waking up during the night.
Improve Sleep-Related Problems
Chronic sleep deprivation interferes with long- and short-term memory. In sleep-deprived laboratory rats, vitamin C prevented memory impairment and maintained normal levels of antioxidants in the brain, which usually go down due to lack of sleep, reported the Brain Research Bulletin in April 2015.
Obstructive sleep apnea contributes to unhealthy blood vessels by increasing inflammation and inhibiting the vessels' ability to relax or constrict as needed. Blood vessel functioning improved in patients with sleep apnea when they received injections of vitamin C, reported the American Journal of Respiratory and Critical Care Medicine in 2006.
Relieve Restless Legs
Restless legs syndrome causes unpleasant sensations in the legs and an uncontrollable urge to move them. The symptoms occur at night and often become worse as the night goes on. As a result, people with restless legs have a hard time falling asleep and staying asleep.
When vitamin C was taken alone, or together with vitamin E, hemodialysis patients with restless legs syndrome reported an improvement in the severity and frequency of symptoms, according to a study in Sleep Medicine in May 2012.
Vitamin C may also indirectly help improve restless legs syndrome through its ability to boost the amount of iron absorbed by your body. Iron deficiency is associated with a higher risk of restless legs syndrome, states the University of Maryland Medical Center.
Daily Intake Recommendations
Keep track of the vitamin C you consume for a few days to see whether you get the recommended intake. Women should consume 75 milligrams daily, men need 90 milligrams and smokers should add an extra 35 milligrams to their daily intake.
If you don't get enough vitamin C, add foods like sweet peppers, broccoli, oranges, strawberries, tomatoes, spinach and baked potatoes to your diet. Consider taking supplements to fill in any dietary gaps.
Vitamin C is generally safe, but supplements can cause diarrhea, nausea and cramps. High supplemental doses may increase the risk of kidney stones and other health concerns. For this reason, don't consume more than 2,000 milligrams of vitamin C daily from all sources, recommends the Institute of Medicine.