Caffeine stimulates the central nervous system, providing greater alertness and energy. Drink too much and you may find yourself overly anxious and jittery. Beverages containing caffeine have been enjoyed by mankind for many years, and it does have some beneficial properties. According to MayoClinic.com, tea contains less caffeine than coffee, but the content of either may be different every time you consume it. The same is true for other caffeinated drinks, such as cocoa. These variations exist due to a number of factors, including method of preparation and strength.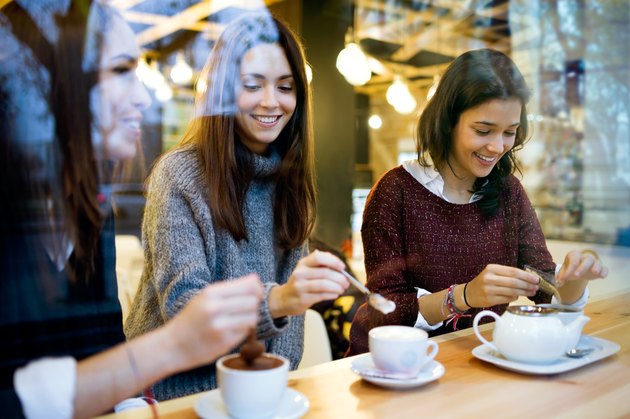 Coffee
Coffee contains more caffeine than any type of tea or cocoa. The amount of caffeine in a cup of coffee may vary widely depending on such considerations as how it is roasted and ground, and the method used for brewing. The length of time that coffee is brewed also affects the caffeine content. An 8-ounce cup of coffee may contain as little as 95 mg of caffeine, or as much as 200 mg, notes MayoClinic.com. If you wish to reduce your intake, add in some decaf and gradually increase the amount.
Tea
Consider the many different types of teas. Green tea contains less caffeine than black tea, and so is a good choice if you wish to consume less. Tea also has beneficial properties. It has been associated with bone density, weight loss, a lower rate of kidney stones and a decreased risk of heart attack, according to the Linus Pauling Institute. An average 8-ounce cup of black tea contains between 40 to 120 mg of caffeine, while a similar cup of green tea contains between 9 and 50 mg of caffeine. To reduce the amount of caffeine in your tea, try brewing it for a briefer period of time.
Cocoa
Drink hot cocoa for a soothing alternative to either coffee or tea. While cocoa does contain caffeine, a 5-ounce cup has a mere 1 to 8 mg. If you wish to cut down on the amount of cocoa you drink, it will not be as difficult since there is much less caffeine involved. Try mixing in more milk while reducing the amount of cocoa powder in a cup, or mix the cocoa powder with hot water.
Benefits and Precautions
Consider that caffeine has been shown to benefit breathing problems, such a asthma, by dilating the airways. On the other hand, an overabundant amount of caffeine can cause a host of problems, including increased heart rate, headaches, stomach upset and difficulty sleeping. It can also dehydrate you. Frequent consumption of caffeine creates tolerance, in which case more of the substance is required to achieve the same effect. When cutting down on caffeine, a gradual reduction is preferable.