When you have a fatty liver, you are correct to wonder what medications are safe. The liver breaks down most substances, including medicines, that enter your body. Liver disease may affect how these medications are broken down and some medications may make your liver disease worse.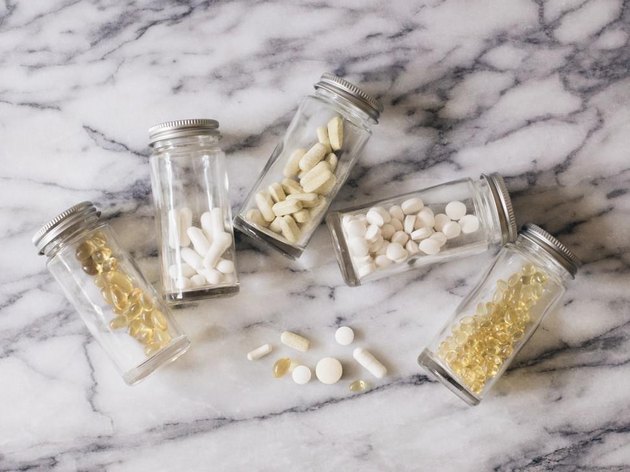 In fatty liver — also called steatosis — fat builds up inside your liver cells. Fatty liver itself is an early stage of liver disease and usually does not cause symptoms or affect liver function. But a fatty liver may be more vulnerable to injury by substances that can damage the liver. Determining what pain medications to take can be complicated when you have a fatty liver, so talk with your doctor to find out which is best for you.
Acetaminophen
Acetaminophen, the active ingredient in Tylenol, is a popular over-the-counter pain medicine. When taken in large amounts, acetaminophen can cause severe liver damage. The liver breaks down acetaminophen into a chemical that is poisonous to liver cells, but normally an antioxidant made in the liver — called glutathione — prevents the chemical from causing harm. When an excessive amount of acetaminophen is consumed, it can overcome the protective ability of glutathione.
With liver disease, the liver may be unable to make as much glutathione as normal. This would make the liver more susceptible to injury by acetaminophen. Because fatty liver itself does not usually affect liver function, normal doses of acetaminophen may be safe. However, there is no way to know the exact amount of glutathione your liver makes, so reducing the dose of acetaminophen may be reasonable if you have a fatty liver.
The Food and Drug Administration (FDA) recommends 4000 mg as the normal maximum dose of acetaminophen per day — this would be about twelve 325-mg pills or eight 500-mg pills. The FDA does not indicate a maximum dose for people with liver disease but does recommend consulting a doctor. A November 2013 review article in "Practical Pain Management" notes that some experts recommend doses as low as 2000 mg per day for people with cirrhosis — the final, most severe stage of all types of liver disease.
Nonsteroidal Anti-Inflammatory Drugs
Nonsteroidal anti-inflammatory drugs (NSAIDs) are the other type of over-the-counter pain medications. They are a group of medications that reduce inflammation and pain and include aspirin (ASA), ibuprofen (Motrin, Advil) and naproxen (Aleve).
According to the National Institutes of Health, liver damage is uncommon with most NSAIDs. However, mild liver damage is relatively common with aspirin, especially at doses above 1800 mg per day. The exact way NSAIDS cause liver damage is unknown.
Current research is unclear whether people with a fatty liver are more likely to develop further hepatic damage by taking NSAIDs. It is generally assumed that NSAIDS might worsen liver function, but some evidence from animal studies suggests that NSAIDs may actually be beneficial for a fatty liver.
Furthermore, a study of more than 11,000 adults in the United States, published in the November 2014 issue of "Alimentary Pharmacology and Therapeutics," reported that people who took aspirin more than 15 days per month were less likely to develop a fatty liver than people who consumed less or no aspirin.
Next Steps
If you have a fatty liver, ask your doctor exactly which and how much pain medication you can take. If you have just a simple fatty liver, your doctor may recommend either acetaminophen or NSAIDs, perhaps at a reduced dose.
Regardless of which medication you take, it is likely that your doctor will require regular blood tests of your liver function to check whether the medication is causing problems. Your doctor may also suggest other ways to relieve your pain to reduce your need for medications.
Steatohepatitis is the next stage if your fatty liver becomes worse. In this stage, inflammation develops and your liver function will likely deteriorate. When this occurs, the choice of most medications, including pain medicines, becomes more important.
If your liver function becomes severely impaired, your doctor may recommend against NSAIDs, as these medications increase the risk of bleeding and kidney damage that commonly accompany poor liver function.
Precautions
Be sure to read the label on all over-the-counter medicines, since a large number contain acetaminophen or NSAIDs, especially aspirin. Acetaminophen may be called APAP or acetam.
If your doctor has advised against acetaminophen or NSAIDs, avoid all medicines containing these drugs. If your doctor has indicated a maximum amount of drug you can take, read the label to know how much the medicine contains. Don't combine different medications containing the same active ingredient.
Reviewed and revised by Mary D. Daley, M.D.
Is This an Emergency?
If you are experiencing serious medical symptoms, seek emergency treatment immediately.