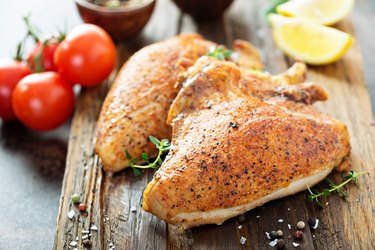 Chicken offers a rich source of nutrients, vitamins and minerals. The poultry — especially white meat — is lower in both total fat and saturated fat than red meat, but with a similar protein content.
Chicken is a tasty, versatile and healthy alternative to red meat.
The breast is the leanest cut of the chicken, and it contains the least amount of sodium and cholesterol.
Here's the breakdown of chicken breast nutrition per 1 oz. cooked, according to the USDA:
45 calories
0.9 g fat
32.9 mg cholesterol
13.3 mg sodium
0 g carbs
9.1 g protein
17% Daily Value (DV) vitamin B3
15% DV vitamin B6
9% DV vitamin B5
There are 9.1 grams of protein in chicken breast per ounce. If you're eating one chicken breast (about 3 oz. of chicken), you'll get 134 calories and about 27 grams of protein for only 2.8 grams of total fat.
Chicken Fillet Nutritional Information
In 2003, chicken became more popular than beef in the United States for the first time in a century, with the average American consuming 60 pounds annually. According to a market research study conducted at Oklahoma State University, the majority of this chicken is consumed in the form of boneless, skinless chicken breasts, often sold under the name chicken fillets.
164 calories
5.9 g fat
77.1 mg cholesterol
496.7 mg sodium
2.7 g carbs
25.2 g protein
52% DV vitamin B3
13% DV vitamin B6
14% DV vitamin B2
Breaded Chicken Cutlet Calories and Nutrition
Chicken cutlets are a culinary blank canvas — you can cover them in sauce or breading or grill the cutlets and serve them on a sandwich. Chicken cutlets can also be suitable for a variety of diet plans, as they are low in fat and calories.
One 4-ounce breaded chicken cutlet contains the following, according to the USDA:
201 calories
5 g fat
90.7 mg cholesterol
612.4 mg sodium
4 g carbs
32.1 g protein
About 68 percent of the calories in a breaded chicken cutlet comes from protein, 24 percent come from fat and the remainder from carbs. Consuming protein is vital for your health because it helps build and repair your body's cells and tissues.
What Is a Chicken Cutlet?
Chicken cutlets are thin strips of meat from chicken breasts that can be used in a variety of recipes.
Rotisserie Chicken Nutrition (Without Skin)
Many people find it difficult to cook healthy meals for themselves on a regular basis. If you find yourself pressed for time, eating precooked rotisserie chicken can be a healthy alternative to many of the available fast food options.
146 calories
3.3 g fat
80.5 mg cholesterol
254 mg sodium
0 g carbs
28 g protein
Dark Meat vs. White Meat Chicken Nutrition
When it comes to light meat or dark meat, everyone has a taste preference. But if your first choice is the drumstick or the wing, you'll get more total fat and saturated fat. Knowing the nutritional differences between the two types of poultry might help you determine how they fit your diet plan.
See how chicken breast (white meat) compares to the chicken thigh (dark meat) below. Values are per a 4-ounce cooked portion. About 58 percent of the calories in dark meat chicken come from protein (the rest from fat) while 79 percent of the calories in white meat chicken come from protein.
| | Dark Meat | White Meat |
| --- | --- | --- |
| Calories | 263 | 187 |
| Total Fat | 16.7 g | 4 g |
| Saturated Fat | 4.7 g | 1.1 g |
| Cholesterol | 150.8 mg | 96.4 mg |
| Carbs | 0 g | 0 |
| Protein | 26.4 g | 35.2 |
| Vitamin B3 | 41% DV | 97% DV |
| Vitamin B5 | 28% DV | 22% DV |
| Zinc | 18% DV | 10% DV |
| Iron | 7% DV | 7% DV |