You can add probiotics to your diet by taking supplements or eating fermented foods, such as yogurt with live active cultures, tempeh, soy drinks, miso, kimchi or sauerkraut. These beneficial bacteria may improve your immune functioning and digestive health, but they aren't guaranteed to help with weight loss.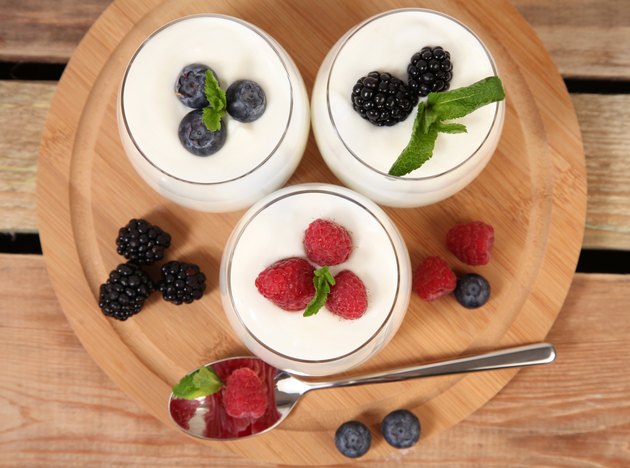 Probiotics and Weight Loss
A study published in the "European Journal of Clinical Nutrition" in June 2010 found that drinking about 7 ounces per day of fermented milk containing a type of probiotic called Lactobacillus gasseri may help with weight loss and decreasing abdominal fat. Another study, published in the "British Journal of Nutrition" in April 2014, found that supplements of another probiotic, Lactobaccilus rhamnosus, appear to help obese women lose weight and body fat when combined with a reduced-calorie diet. The women receiving the supplements lost about twice as much weight over the two-year study period as women who followed the same diet without taking the supplements.
A Differing Opinion
Not all research results show beneficial effects on weight loss when taking probiotics. A January 2011 article published in "Chemico-Biological Interactions" noted that a diet high in polyphenols, a type of antioxidant, and low in probiotics may be best for weight loss. The theory is that probiotics increase weight while polyphenols decrease weight due to the way they interact with the microorganisms that live in your intestines.
A Potential Explanation
Some types of probiotics can cause weight gain, including Lactobacillus acidophilus, Lactobacillus ingluviei and Lactobacillus fermentum, according to a meta-analysis published in "Microbial Pathogenesis" in August 2012. Others, including Lactobacillus gasseri and Lactobacillus plantarum, may be more likely to cause weight loss. Further research is necessary to determine the exact effects of different probiotics on weight, as well as whether they have the same effect on obese and normal-weight individuals.
Other Considerations
Probiotic supplements aren't likely to help you lose weight if you don't take them in conjunction with a reduced-calorie diet. You need to create a 3,500-calorie deficit for each pound of weight loss. Adding more exercise to your daily routine, including both cardio and strength training, will help increase fat loss and limit the amount of muscle you lose.