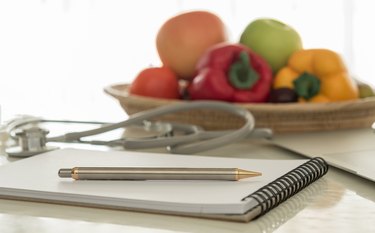 United Healthcare is a publicly traded company offering health-related products and services to millions people. United Healthcare offers an assortment of health coverage programs to small and large groups with varied benefit packages. Depending on which program you or your employer chooses, you may have a variety of weight loss resources available to you. Regardless of which program you are covered by, there are weight management resources available to all members.
All members of United Healthcare have an online weight management coach available. After you enter some of your basic health information, the online coach devises a personalized diet and exercise program for you. Menu suggestions are available, or you can choose your own food items. When you enter your choices, the online coach provides you with caloric feedback and a nutritional analysis. The coach estimates the number of calories you need to burn through exercise and calorie deficit to produce your desired weight loss, while giving you motivational support and plenty of information.
If both your physician and the plan coordinator agree that your weight is causing additional health problems, you may be eligible for nutritional counseling benefits where you are able to meet with a registered dietitian to devise a plan specifically for your nutritional needs. If you are deemed eligible, your coverage includes three meetings per illness. Examples of conditions that are covered for nutritional counseling benefits include diabetes, coronary artery disease, congestive heart failure, severe obstructive airway disease, gout and renal failure. Obesity and being overweight are among the conditions that are not covered for nutritional counseling benefits.
If your plan includes mental health benefits and United Healthcare considers your weight to be the result of a mental health issue, you may be eligible to meet with a therapist to devise a weight loss plan. Benefits for mental health vary by plan and by your location.
If your doctor and United Healthcare agree that you are eligible for weight loss surgery to improve your chronic health problems, you may be eligible for weight loss surgery. After meeting a deductible, if your plan has one, your cost may include a percentage of the cost of surgery, hospitalization and other fees.
United Healthcare offers certain members free registration and discounted weekly fees to attend Weight Watchers meetings. Some employers, like UPS, even offer employees an incentive to attend the discounted meetings. Weight Watchers benefits vary depending on your plan and where you live.
If you are concerned with weight loss because you suffer from additional health problems related to your weight, the first place to take action is your doctor's office. United Healthcare always covers visits to your doctor if you are injured or sick, and it provides preventative health benefits for services deemed necessary by the U.S. Preventive Services Task Force, including diabetes screenings, cholesterol screenings, blood pressure checks and counseling for a healthy diet.