In order to reduce the risk of long-term health problems, a goal of therapy in diabetes is to achieve near-normal blood glucose, or blood sugar levels. But even in the short-term, it's important to prevent high blood sugars, since significant elevations may be associated with an array of symptoms including dehydration, increased risk of infections, and the life-threatening conditions diabetic ketoacidosis (DKA) or hyperosmolar hyperglycemic state (HHS). Since DKA and HHS are serious conditions that can lead to coma and death, blood sugar levels above 400 mg/dL should be considered a medical emergency.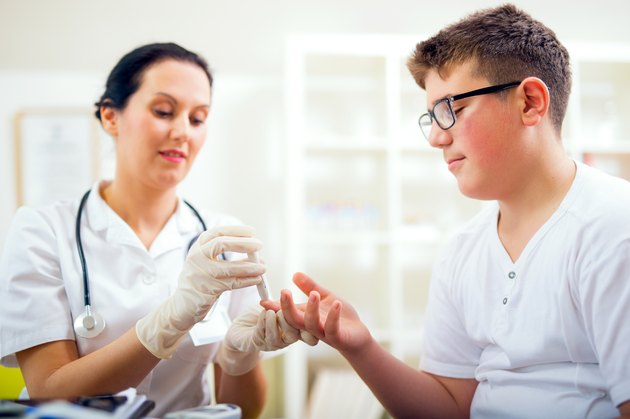 Causes
Diabetes mellitus is a condition that leads to high blood sugar levels. In diabetes, blood sugars tend to run well above the normal range -- which depending on the laboratory is somewhere between 70 to 100 mg/dL. If you have type 1 diabetes (T1DM), elevated blood sugars are caused by an absence of insulin, the hormone that is necessary to remove excess glucose from the blood. In type 2 diabetes (T2DM), blood sugars levels run high due to impaired insulin production or action. Factors that worsen blood sugars include illness, certain medications, inactivity, or diet -- such as eating large portions or excessive carbohydrates. Blood sugars can also increase if diabetes medications are not taken regularly.
Symptoms
Measuring your blood sugar is an important way to manage diabetes, as glucose meter results can alert you to a problem well before symptoms occur. Classic symptoms of high blood sugars include thirst, frequent urination, dry skin, fatigue, drowsiness, blurred vision and sometimes unintentional weight loss. Infections -- such as skin or urinary tract infections -- are also more likely to occur when blood sugars are elevated. Symptoms may not be noticed until readings are above 200 mg/dL, but as blood sugar levels increase, symptoms tend to be more severe.
Diabetic Ketoacidosis
DKA is a complication of high blood sugars that is most likely to occur upon diagnosis of T1DM, or when insulin is omitted. However, it can occur in T1DM or T2DM during illness, according to a December 2009 article published in "Diabetes Care." When little or no insulin is available in the body, high amounts of glucose remain in the blood, and the body also produces excess glucose from reserves. Ketones are created as the body breaks down fat for energy, and in the absence of insulin, ketones can quickly build up to dangerous levels, resulting in DKA. According to a report in the March 2013 issue of "American Family Physician," DKA is suspected when blood glucose is above 250 mg/dL and when the blood is acidic and contains ketones. DKA also causes severe dehydration, vomiting, abdominal pain, difficulty breathing and a fruity odor to the breath. DKA can lead to coma and death if not promptly treated.
Hyperosmolar Hyperglycemic State
Severe high blood sugars can lead to profound dehydration even without ketone production. HHS, a life threatening complication characterized by profound dehydration and blood sugars over 600 mg/dL, is most common in T2DM during illness or infection. HHS tends to develop more slowly than DKA, and may take several weeks to reach a health crisis. When blood sugars are over 400 mg/dL, immediate steps need to be taken to prevent the transition to HHS. Symptoms of HHS are similar to that of high blood sugar levels, but more severe. For example, dehydration may be so severe that lips are cracked, urine is dark yellow and low in volume, and you no longer sweat. Vision loss, extreme fatigue, confusion and even hallucinations may occur, according to the American Diabetes Association.
Prevention
The health problems related to long-term high blood sugars make diabetes a feared disease. While eye, kidney, nerve, heart and blood vessel disease take time to develop and may be related to even mildly elevated blood sugars, blood sugars above 400 mg/dL can be a more immediate threat to your health. According to the article in "American Family Physician," education is the most effective strategy to prevent severe high blood sugar complications, including DKA and HHS. For example, complications of severe high blood sugars can be prevented by taking medications regularly, testing blood sugars and acting early on abnormal results, and following additional guidelines for managing diabetes during illness. People who produce little or no insulin may also be advised to test blood or urine ketones as a way to identify the presence of ketones early and prevent DKA.
Warnings and Precautions
If your blood sugar reading is over 400 mg/dL, it's important to first consider the possibility of a false reading -- particularly if you have no symptoms. For example, food particles on your fingers or outdated or improperly stored test strips can cause inaccurate readings. If after washing your hands or checking the accuracy of your test strips, you confirm your blood sugar is above 400 mg/dL, follow any guidelines your diabetes care team has provided about taking extra insulin and drinking more water -- and contact your doctor for treatment advice. If you have any symptoms of DKA or HHS, contact your doctor right away or seek immediate medical attention. Blood sugar levels above 400 mg/dL can lead to coma and death, and it's critical to receive prompt medical intervention.
Reviewed by: Kay Peck, MPH, RD