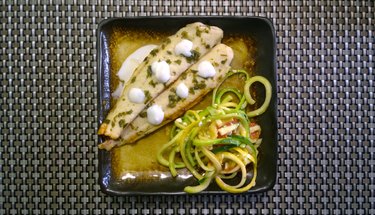 Swai fish — also known as basa fish, river cobbler or Vietnamese catfish — is an affordable, tasty white fish. It has a mild flavor, which means that it's easy to make a variety of swai fish recipes. This fish is a particularly healthy choice, as it's rich in both protein and healthy fats.
Preparing Swai Fish Recipes
Swai fish is a type of catfish that's native to southeast Asia. It's white, flaky and most similar to American catfish, tilapia or halibut.
The American Heart Association recommends consuming about two 3- to 4-ounce servings of fish each week. Swai fish can definitely be a healthy choice to integrate into your meals.
According to the USDA, each 4-ounce (113 gram) serving of swai fish has 15 grams of protein. Swai fish also has 4.5 grams of fat, most of which comes from healthy unsaturated fats like omega fatty acids.
Although there are many fried, grilled and broiled swai fish recipes, you might be best off baking your swai fish. It's low in fat compared to other fish, like salmon, which means that it can dry out easily during the cooking process.
Swai fish can be made in a variety of ways, including steaming, grilling, baking and frying. You can even make cajun baked swai with vegetables as a single-pan meal. Alternatively, make recipes like spicy Cajun baked swai fish and serve it with our Vegan Cajun Red Beans and Quinoa recipe.
Preparing Cajun Baked Swai
The main thing you need to make Cajun baked swai is Cajun seasoning. Cajun seasoning is incredibly flavorful. You won't need too much, given swai fish's naturally mild flavor.
If you don't have an already prepared Cajun seasoning, you can make your own.
Things You'll Need
1 1/2 teaspoons of smoked paprika

1 1/2

teaspoons of cumin

1 1/2

teaspoons of coriander

1 1/2

teaspoons of thyme

1 1/2

teaspoons of cayenne pepper

1 teaspoon of oregano

1/2

teaspoon of black pepper

1/2

teaspoon of red chili flakes

1/2

teaspoon of garlic powder

1/2

teaspoon of onion powder

1/2

teaspoon of celery salt
Mix these spices together thoroughly, and put them in a sealable container. Each batch of Cajun seasoning is enough to coat multiple fillets of swai fish.
Step 1: Preheat Your Oven
Preheat your oven to 350 degrees Fahrenheit (177 degrees Celsius).
Step 2: Season Your Swai
Generously coat the swai fish fillets with the Cajun spice mix.
Step 3: Add a Healthy Fat
Drizzle a little olive oil or avocado oil onto an oven-safe pan and place the fish fillets on top. Add a small pat of ghee or butter to the top of each fish fillet. This fat will melt over the fish as it cooks.
Tip
If you'd rather avoid the saturated fat in butter, you can instead drizzle the top of the fish with a little bit of oil. The American Heart Association says that corn, olive, safflower, soybean and olive oils are all healthy fats.
Step 4: Bake Your Cajun-Spiced Swai
Bake the swai fillets for 10 to 15 minutes. The Food and Drug Administration says that fish is fully cooked when its internal temperature has reached 145 F (63 C). Your swai fish should also look white and flake apart easily.
Step 5: Serve and Savor
Top your spicy Cajun baked swai with fresh cilantro and chopped spring onions. Squeeze a bit of lemon on it before serving.
Was this article helpful?
Thank you for your feedback!