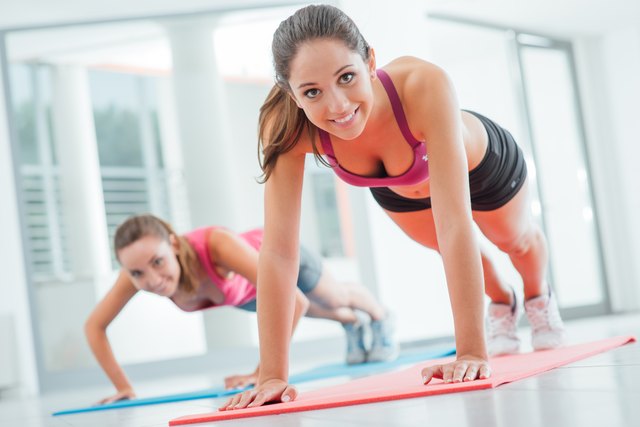 Many people think that pushups help to strengthen the "lats," or latissimus dorsi muscles, since pushups involve the upper body. However, pushups do not affect the lats. Pushups are however, an excellent exercise to strengthen your upper body parts. They also enable you to have better posture and they protect your back from strain or injury.
Pushup
To perform a pushup, start in a face-down position on the floor with your hands placed on the floor shoulder-width apart and beneath your shoulders. Keep your feet about hip-width apart with your weight on your toes. Keep your back flat. Straighten your elbows to push your body up off the floor until all of your weight is on your hands and your toes. Lower your body by bending your elbows until your chest touches the floor. Once you push back up to the top position, you have completed one rep. Do two sets of 12 to 15 repetitions.
Muscles Used
The primary muscles used during pushups are the deltoid muscles, or shoulder muscles, the chest muscles, or pectoralis major, the triceps, at the back of the upper arm, the rotator cuff, or the muscles around the shoulder joint, and the scapular, or shoulder blade muscles. Though the upper back muscles, namely, the latissimus dorsi muscles are in motion, pushups do not strengthen these muscles nor improve range of motion.
Lats
The latissimus dorsi muscles are the largest muscles of the back and enable a wide range of body positions. The main function of the lats is shoulder adduction, or bringing the arm close to the body, shoulder extension, internal rotation of the shoulder, and transverse extension of the shoulder. The lats also assist with depression of the scapula, downward rotation of the scapula, and adduction of the scapula. Specific workouts for lats help in attaining a V-shaped back or wing-shaped appearance.
Lats Exercises
The primary exercises that develop the latissimus dorsi are the pullup and chinup. The difference between the chinup and the pullup is hand placement; chinups are done with an overhand grip while pullups are done with an underhand grip. Grasp the chinup bar with your hands shoulder-width apart and lift yourself so that your chin comes up to the bar. Slowly lower yourself until your elbows are fully extended to complete one rep. Keep your legs together and your knees slightly bent throughout the exercise. Do as many as you are able. Other exercises that work the lats are the lat pull-down and the iron cross.