The number of push-ups you can do somewhat reflects your fitness level. Whether it's the best measure of your health is debatable, but it sure is nice to know if you can do as many as you should for your age.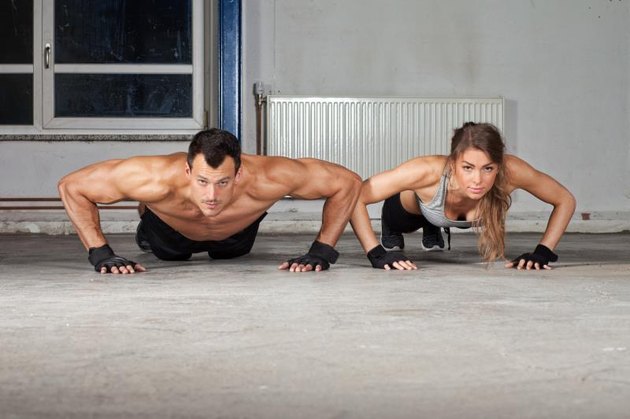 A lot of people can't perform a single push-up, let alone come close to average. However, the push-up can save you during a fall and help you get up again. It also demonstrates your functional ability to do things as simple as press open a heavy door, push a grocery cart and move furniture.
What is "average" when it comes to push-ups isn't exact. If you are in the military or law enforcement, the number may be defined by your employer, and you're compared to the performance of your peers.
"Average" as compared to the more general population — such as in fitness tests from the YMCA or the Canadian Society for Exercise Physiology — will be a lower number because you have a larger pool of varied fitness levels to compare yourself against.
The General Population
According to a 2008 article in the New York Times, the average number of push-ups a 40-year old man can do is 27 and, for a 40-year-old woman, it's 16. At age 60, the numbers drop to 17 and 6 respectively.
As these stats demonstrate, the average push-ups expected of you vary by age. As per the YMCA's fitness test, the average man's push-up numbers are:
17 to 19 years: 19 to 34 push-ups

20 to 29 years: 17 to 29 push-ups

30 to 39 years: 13 to 24 push-ups

40 to 49 years: 11 to 20 push-ups

50 to 59 years: nine to 17 push-ups

60 to 65 years: six to 16 push-ups

For women, the YMCA's averages are:
17 to 19 years: 11 to 20 push-ups

20 to 29 years: 12 to 22 push-ups

30 to 39 years: 10 to 21 push-ups

40 to 49 years: eight to 17 push-ups

50 to 59 years: seven to 14 push-ups

60 to 65 years: five to 12 push-ups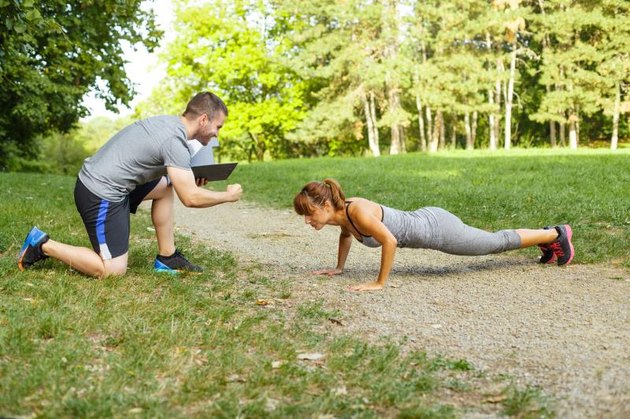 Excelling at Push-Ups
These ranges are pretty wide, which gives you a good chance of falling into the average rating. But, if you aren't quite up to standards yet or aspire to blow these average numbers away, it's time to put in some effort.
A full push-up is hard for a lot of people, especially those new to exercise. Start with push-ups done with your hands against a wall. Place your hands against a clear wall at armpit height and slightly wider than your shoulders. Walk your feet back to create a slight angle. Bend your elbows to lower your nose toward the wall and extend them again back to start. Work up to three sets of 12 reps.
Once you've mastered the wall push-up, do push-ups on an incline. Start with a high angle, such as a kitchen counter. Once you feel comfortable with this angle, choose a lower one — a coffee table, ottoman or aerobics step riser. You'll ease your way down to a full push-up on the floor.
When you've reached the standard version, do as many as you can balanced on your hands and toes, even if it's only one. Then, drop to your knees to do as many more as possible. Over time, you'll gain strength and stamina to complete more and more full push-ups, working up to the average for your age — or exceeding it.