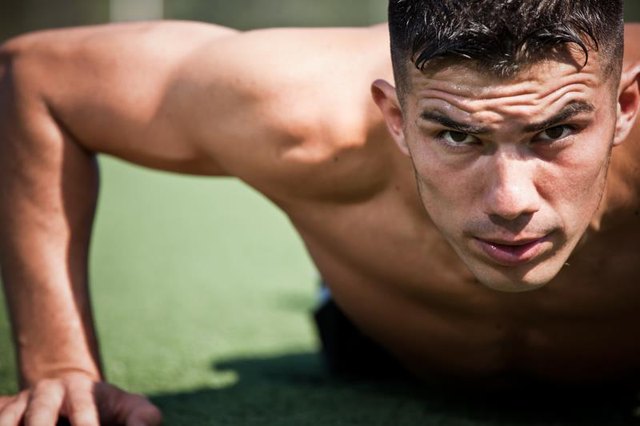 Before you channel your inner Bruce Lee -- the martial artist famous for his daily calisthenic routines that included countless sets of push-ups daily -- ask yourself if such a fitness strategy is the best way for you to reach your goals.
For a novice exerciser, daily push-ups may be too taxing and could get in the way of fitness gains. For an experienced strength trainer, however, a modest amount of daily push-ups could be fine. Even the strongest people, though, need to take a break between big push-up workouts.
Beginners Need Breaks
When you're first starting out with strength training, even with moves that just use your body weight like the push-up, you're stressing your muscles in ways that they aren't accustomed. Strength training exercise works by breaking down muscle fibers so they have to grow back stronger and thicker. To allow for that growth, though, they need periods of recovery. If you continually tear muscles down without giving them a chance to rebuild, you'll slow or halt your gains altogether.
If you're a beginner, even one set of eight to 12 full push-ups could be enough to fatigue your chest, shoulders and triceps, so that they need at least 48 hours to recover. Usually two to three times per week of strength training, that includes push-ups, is an appropriate schedule for beginners.
As you become stronger, one set of eight to 12 push-ups may not be enough to really tear you down, so you could do such a short set daily without interfering with your results. If you do decide to throw in a daily set -- ask yourself why. It won't markedly contribute to strength gains, but if it makes you feel good about yourself, it won't hurt.
What About Those 100 Push-Up Per Day Challenges?
More experienced exercisers who are accustomed to bench pressing hundreds of pounds at their strength-building workouts may be able to do push-ups daily without impacting their lifting gains. One-hundred push-ups per day may actually help build muscular endurance -- the ability of the muscles to sustain multiple repetitions against resistance over longer periods of time. Push-ups use the equivalent of 40 percent to 50 percent of your body weight, so a short set -- even 100 reps for very proficient lifters -- isn't going to overly tax your muscles.
But, even heavy lifters benefit from rest periods. If your push-up protocol involves a massive number -- such as 300 -- you should rest your chest, shoulder and triceps a day or two before diving back in to work those muscles. And, if you did a particularly hard chest routine that included multiple push-ups along with heavy bench presses, chest dips and flyes, you definitely lay off a daily push-up protocol.
Experienced lifters benefit from three to seven days between hard workouts. Upper body muscles tend to recover faster than lower body muscles.
Guidelines for All Exercisers
Although soreness isn't a necessary byproduct of an effective workout, it is a clear sign that you need rest. If you're sore from your push-ups, take a day or two off from them before you dive back in, regardless of your commitment to daily push-ups.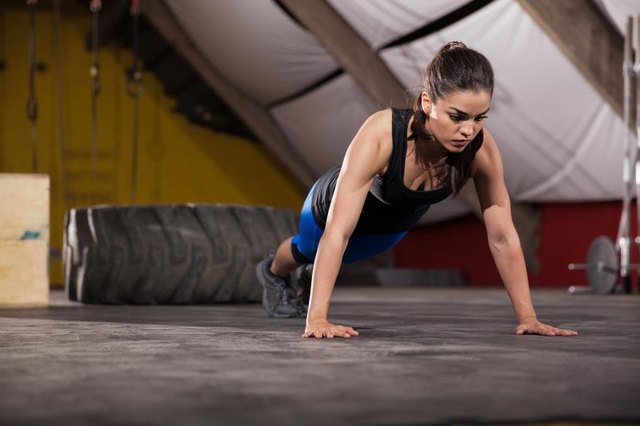 Doing push-ups everyday also has the potential to cause overuse injuries, especially if your form is off. Your wrists, elbows and shoulders are particularly susceptible. If you find you develop an aching pain that worsens overtime in any of these areas, back off your daily regimen so your soft tissue has a chance to heal.
A proper push-up has your hands at about shoulder height, palms slightly wider than your armpits and body straight as a board. Bend your elbows so that they form a 45-degree angle with the body.