After putting in your time at the gym, you might be looking forward to a night on the town with friends. But consuming alcohol after a workout can significantly interfere with your athletic performance. With proper planning, you can enjoy a few drinks without derailing your fitness routine.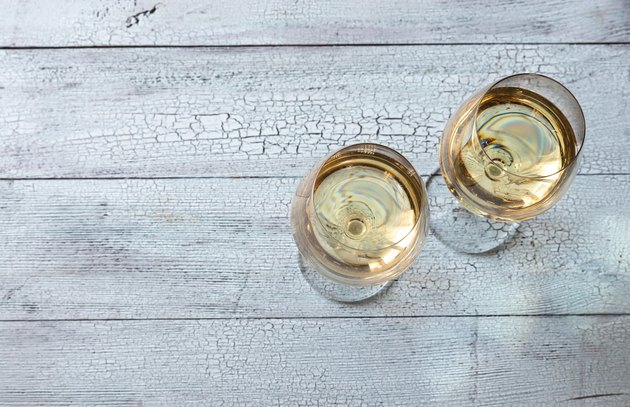 Tip
Rehydrate with water and refuel with food after your workout before you consider drinking alcohol.
Avoid Alcohol After Workouts
Drinking immediately after a workout impedes muscle recovery, according to a study published in 2014 by PLOS One. In the study, eight male subjects performed a high-intensity routine consisting of weight training and aerobic exercise. Upon completion, one group ingested a protein shake, another ingested the protein shake and alcohol, and the third group ingested carbohydrates and alcohol. All subjects consumed a carbohydrate meal two hours after the workout.
Muscle recovery was most negatively impacted in the subjects who consumed alcohol with carbohydrates after the workout. Consuming protein with the alcohol negatively impacted recovery, but to a lesser extent. The authors point out that intoxication is also likely to impact a person's ability to make appropriate decisions about their recovery practices.
Make Some Plans
If you do decide to drink alcohol after a workout, making plans ahead of time can lessen the negative effects, according to the National Collegiate Athletic Association. Before you drink alcohol, be sure to drink enough water to make up for the amount of fluid lost through sweat. You can calculate this by weighing yourself before and after your workout.
Eat carbohydrates shortly after your workout to replenish the stored energy in your muscles. Snacking while drinking alcohol will also help slow its absorption. Decide ahead of time how many drinks you will consume and pace yourself throughout the evening. Drink more water before bedtime to help ward off a hangover.
Other Potential Risks
Alcohol can inhibit clotting factors in the body that are especially important post-workout. Bleeding and swelling from muscle damage during a workout can increase if you consume alcohol. According to the Irish Nutrition & Dietetic Institute, alcohol can cause abnormal heart rhythm. This risk increases significantly when combined with exercise due to the increased stress on your heart with elevated activity levels.
Alcohol is a diuretic — it increases urine output by your kidneys. Consuming large amounts of alcohol can lead to dehydration. Sweating during exercise can also lead to dehydration if you don't take in adequate amounts of water to replenish fluids lost through sweat.
Exercising after alcohol consumption isn't a better option. Your liver will have a more difficult time processing lactic acid released during exercise if it is also processing alcohol. This can lead to muscle cramps and fatigue.
Be Informed Before You Drink
Alcohol may be safe to drink in small doses after exercise, but be aware of how much you are consuming. According to the National Institutes of Health, a standard drink size is 12 ounces of beer, 8 to 9 ounces of liquor, 5 ounces of wine or 1.5 ounces of distilled spirits. Many alcoholic drinks are served in amounts that constitute more than one serving.