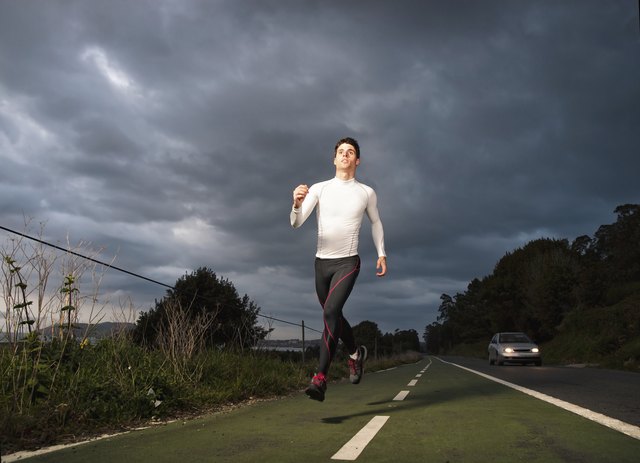 Physical exercise is important to maintaining the health of your heart and lungs. However, fitting in time to exercise can be challenging, and nighttime may be the only available option. A misconception is that exercise before bedtime -- even hours before -- is detrimental to your sleep. While this may be true for some populations, for the most part, exercise before bed -- even 30 minutes before you go to sleep -- is not bad for you.
Misconceptions
Vigorous exercise releases adrenalin and noradrenalin, two stimulants in your body that elevate your heart rate and body temperature. Exercise at this level can cause you to feel more alert and awake. However, these effects do not typically detract from your ability to sleep, according to Dr. Gabe Mirkin.
Timing
Recommendations on the right time to exercise vary from source to source. The University of Maryland Medical Center recommends avoiding strenuous exercise two hours before sleep. Relaxing or moderate exercise may not affect your sleep at all. But if you do exercise strenuously -- such as for an hour or more at one time -- and do so two to three hours before bedtime, you may find you sleep better and more deeply.
Sleep Disorders
In some instances, exercise can actually help you before you go to sleep. This is true if you have a sleep disorder such as insomnia. While the exact link between better sleep, exercise and sleep disorders has not been clearly defined, Shawn Youngstedt, an exercise science researcher at the University of South Carolina, interviewed in "U.S. News & World Report," says that exercise can help relax a person and cut down on anxiety related to sleep.
Cost-Benefit Analysis
The link between exercise and sleep differs from person to person. Some people who exercise vigorously before going to bed do not experience trouble sleeping, while others have greater difficulty. When deciding what's best for you, consider the benefit of exercise on your body, and weigh that against how difficult you find it to sleep. If you decide to exercise before bed, follow with relaxing activities and bedtime rituals to help you wind down and go to sleep. Try activities such as reading a book or listening to relaxing music, and reduce excessive noise while making your room cool and comfortable. Taking these steps can help offset the added alertness you may experience after your workout.