It's the age-old question: Is it better to knock out a workout in the morning or at night? Many people have strong opinions on when is the best time to exercise, however both have benefits to improve your health, depending on your fitness goals and personal preferences.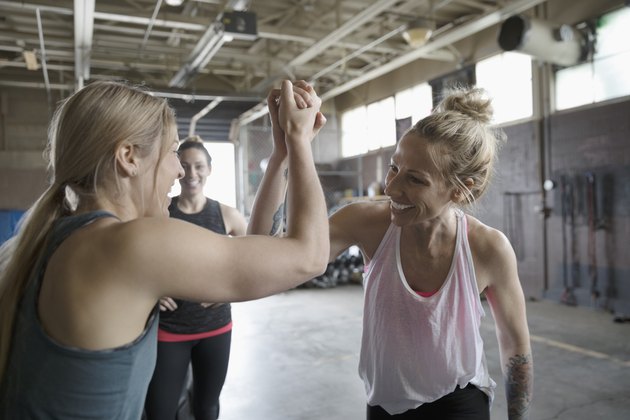 Tip
If you are trying to burn fat, consider working out first thing in the morning before eating breakfast. For those wanting to build muscle mass or training for a sport, afternoon may be a better time to exercise, but avoid exercising right before bed for optimal sleep.
Benefits of a Morning Workout
Working out in the morning is a great way to start the day off on a healthy note, which could set the tone for making healthier choices throughout the day. You might hesitate before splurging on a doughnut at work after knowing how hard you worked on the treadmill burning off 300 calories that morning.
Working out in the morning means you also burn more fat. A March 2017 study in Sports Medicine showed that exercising while you are in a fasting state helps you burn more fat and also improves blood glucose levels. If you do a morning workout, try to get it in before you eat breakfast to get the most benefits of your early workout.
Another big reason many people like to knock their workout out early is that you get it done before the craziness of the day. If you wait until after work or after the kids are in bed, it could be easier to get too busy or tired and you may be more likely to blow it off.
Benefits of Workout Before Sleep
For every person that loves a morning workout, you will find someone that will tout the benefits of a workout before sleep, or in the evening after work. For those night owls, they function better if they sleep in longer in the morning and hit the gym after work. Not to mention, it is fun to meet friends for a spin class or yoga session.
Exercising after work can also be a great way to relieve the stress of a busy day or a long day at home with the kids. For those that have little kids that wake up at the crack of dawn, it may be impossible to work out early and you have to wait until your partner comes home to take over kid duties so you can hit the gym. As your life changes, your exercise schedule may change also, and that is perfectly fine.
In addition, an April 2019 study in Cell Metabolism showed that evening workouts may be better than morning workouts, due to how our circadian rhythm responds to exercise. This study looked at both mice and 12 humans and found that overall exercise performance was better in the evening. In addition, the results showed less oxygen was used during the night exercise sessions, which means better stamina while working out.
Working Out Right Before Bed?
How late is too late to work out? Many wonder if working out right before bed will affect their sleep. A June 2019 study in the Contemporary Clinical Trials Communication says that exercise does stimulate the sympathetic nervous system, therefore exercising too close to bedtime can keep you awake. If you prefer exercising in the evening, experts in this study say to exercise at least 1.5 hours before bedtime.
It is also beneficial to end your evening workout with a cool down period, including stretching and even meditation. This will help get your heart rate back down and will get you in a calm state. Ending your workout with a short yoga session is also a great way to get your body in a relaxed frame of mind.
Conclusion: Morning or Night Workout?
The study mentioned above in the Contemporary Clinical Trials Communication compared those who worked out in the morning and those who worked out in the evening and they both showed improvement after 12 weeks in cardiovascular fitness and body fat percentage. The morning group showed a slightly higher percentage in completing their workouts, at 94 percent completion in the morning and 87 percent in the evening, so take that in consideration if your schedule is flexible.
Exercising at any point in the day will benefit you. Listen to your body and consider your schedule and make sure you take the time to get a good sweat session in.