Irregular menstrual bleeding is bleeding that occurs outside of the normal menstrual period. This can be extremely heavy or scanty bleeding during or after the menstrual cycle. Irregular menstrual bleeding can be caused by stress, severe illness, childbirth, perimenopause or rapid changes in weight. Medications such as birth control pills or hormone replacements can also cause irregular bleeding. Vitamin usage is not associated with irregular menstrual cycles. Consult with your physician before taking any vitamin supplements.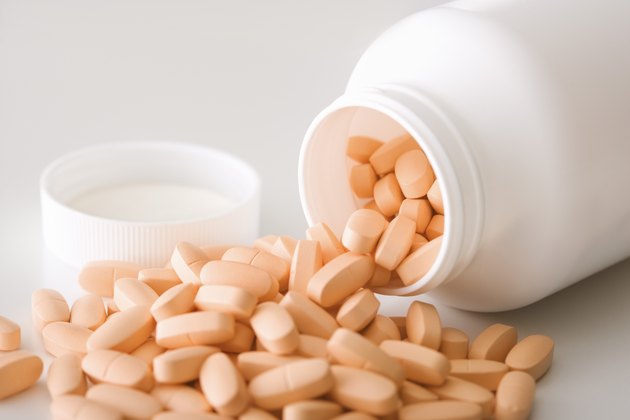 Vitamins
Vitamin supplements are sold over-the-counter and they are usually taken to support existing health. Vitamin supplements are also prescribed to people who have vitamin deficiencies or to prevent them from occurring. Deficiencies in vitamins such as vitamin B-9 or B-12 can result in anemia if left untreated. Both water-soluble vitamins B and C and fat-soluble vitamins A, D, E and K are available in supplement form.
Side Effects
The most common side effects of taking vitamin supplements are nausea and headache. If you've taken a multivitamin supplement formula, you may also experience a strange taste in your mouth. According to Dr. David Katz, international nutrition specialist, taking large vitamin pills may irritate the esophagus triggering acid reflux in some people. Multivitamins do not contain hormones and as such, they do not alter the menstrual cycle or cause irregular menstrual bleeding.
Overdose
Each vitamin has a recommended daily allowance and a tolerable upper limit. The tolerable upper limit is the most you can take of any vitamin without causing toxicity. Taking more than this amount can result in hypervitaminosis. Symptoms of hypervitaminosis differ depending on the vitamin that's taken. An overdose in certain B vitamins can cause permanent nerve damage and others can cause more severe symptoms such a coma. Changes in the body due to illnesses can trigger irregular bleeding, so overdosing on vitamins can cause this.
Concerns
If you experience heavy bleeding or enough bleeding to soak two or more pads in an hour, contact your physician immediately. If you experience heavy bleeding in addition to pain or an abrupt stop in bleeding in addition to pain seek emergency care.