Whether you call yourself a hard-gainer, an ectomorph, or just plain skinny, you're not alone in your efforts to pack on healthy weight and gain muscle strength and size. Many naturally thin men have a difficult time upping their body mass. Thankfully, a combination of changes to your lifestyle, eating plans, and workout schedule can help you to gain weight and muscle faster.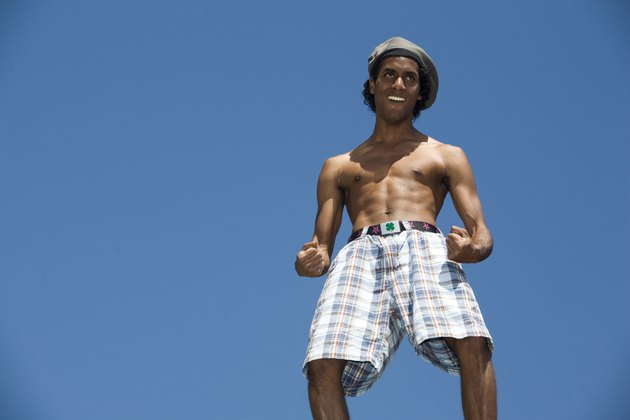 Step 1
Eliminate or reduce your cardio exercise. Cardio can limit or even cancel out your efforts to gain weight and put on muscle because it burns up the extra calories your body needs to grow bigger. If you don't want to give up your cardio habit completely, limit its frequency as much as possible and keep each cardio workout session's duration to under 45 minutes.
Step 2
Eat more food. Your body requires surplus calories to pack on pounds and grow your muscles. Start by adding 500 calories to your daily diet, and continue to add on extra calories if you're still not satisfied with your weight gain. For the best results, try lean meats, such as fish, and calorie-dense foods like nuts, avocados and peanut butter. Examples of 500-calorie snacks include a 1/2 cup of almonds mixed with 1/4 cup of dried cranberries, or a whole-wheat bagel paired with a couple tablespoons of almond butter and 1/2 of a banana.
Step 3
Lift heavy weights when you're working out. For optimal muscle size increases, the American Council on Exercise recommends using weights that are heavy enough that you can only complete six to 12 repetitions of an exercise in each set. Anything lighter, and you won't experience the muscle gains you want. Try three to five sets of exercises that target your body's largest muscle groups, such as bench presses for your chest muscles and squats for your quadriceps.
Step 4
Wait for 48 to 72 hours before exercising again. It's during the post-workout recovery phase, not the actual moment that you exercise, that your muscles get stronger and bigger. Failure to give your body adequate recovery time between gym sessions cripples your ability to get bigger and stronger.
Step 5
Sleep more. When you're asleep, your body repairs itself from the stress of exercise. For example, your brain's pituitary gland releases the growth hormones responsible for muscle repair and growth while you're sleeping. For the best results and weight gain, aim to get a minimum of seven hours of sleep every night.
Warning
Talk to your doctor before changing your diet or starting a new exercise regimen. Everyone's body is different, and pre-existing medical conditions may affect your ability to exercise or gain weight.