The skin is constantly exposed to environmental factors. It is well understood that prolonged sun exposure can lead to skin damage and possibly skin cancer. It is important to protect the skin from sun damage, but natural components in the skin, such as melanin can help protect it from the inside out.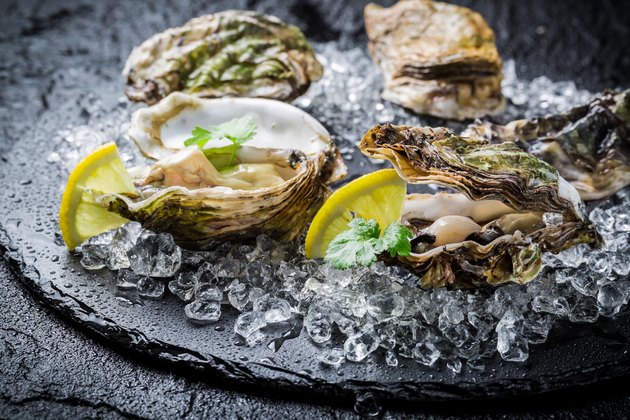 What Is Melanin?
Melanin is a pigment in the skin that may protect you from the harmful effects of sunlight. According to 2008 research published in "Photochemistry and Photobiology," melanin helps absorb ultraviolet (UV) light from the sun.
Those with darker skin naturally have a higher amount of melanin than those with fair skin, according to 2016 research published in "International Journal of Molecular Sciences." Melanin production can increase over time to better protect you from sun exposure. In order to do this, you need to be eating the right foods that provide your body with nutrients used to make melanin.
Copper
Copper helps produce melanin as well as elastin, a protein that gives your skin its elasticity, according to 2014 research published in "Current Chemical Biology." Copper is needed in very small amounts but is still considered a nutrient essential to the body.
Copper can be found in oysters, organ meats — particularly the liver and kidneys — and shellfish, according to the National Institutes of Health. Other foods that contain copper are prunes, whole grains, dark leafy greens, potatoes, and nuts.
Tyrosine
Tyrosine is an amino acid that aids in the production of melanin, according to the National Institutes of Health Open Chemistry Database. Amino acids are the building blocks of proteins, so you can find tyrosine in many plant and animal foods. Soy products, eggs, fish, cheese, and turkey are all rich sources of tyrosine.
Considerations
You can get the nutrients needed to assist in melanin production through natural dietary sources. If dietary restrictions keep you from eating foods that can help your body produce melanin, speak with your doctor to see if a dietary supplement is right for you. It is important to protect your skin from the sun with foods and with sunscreen to reduce the risk for skin cancer.