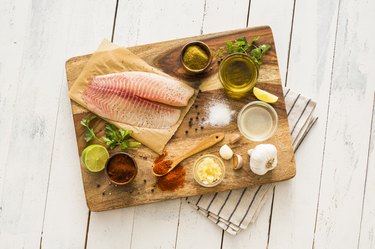 You can cook frozen tilapia on the stove or in the oven, but it's preferable to thaw it beforehand. The fish thaws in cold water within a few minutes.
Tip
To cook tilapia, season it with salt, pepper and fresh parsley. Then, fry it in a pan in extra-virgin olive oil that has been infused with lemon slices.
Pan-Fried Frozen Tilapia
First of all, although tilapia can be cooked from frozen in a frying pan, it will take longer to cook than when thawed, Mancuso explains. "Preferably, fish should be thawed out in the fridge, or in cold water, before being cooked. It's important to remember that fish will cook faster, and more evenly, when it's thawed, and the thawing process only takes a short time."
Mancuso doesn't recommend defrosting tilapia, or any other fish, in the microwave, because it's difficult to achieve an even thaw. "The microwave can quickly cook the outside, leaving the inside raw," she explains. Second, beware of frozen fish that smells fishy, Mancuso warns. This may indicate that it contains bacteria.
To cook tilapia on the stove, use extra virgin olive oil in a pan on medium heat, she advises. "Add sliced lemon with peel to the olive oil, and then put in the tilapia after the lemon has browned. Flavor with fresh herbs such as parsley, sea salt and black pepper."
Turn the fish a couple of times. It takes about 10 minutes to cook. You'll know the fish is done when the inside flakes easily.
Alternative Ways to Cook Tilapia
Some tilapia recipes include baking the foil-wrapped fish in the oven. "Wrap each piece of fish separately in foil, and add sliced lemon, olive oil and fresh herbs such as parsley, sea salt and pepper," says Mancuso. Put the fish on a baking sheet, and cook in a 350-degree Fahrenheit oven for 30 minutes.
Another way to cook tilapia in the oven is to put a crispy crust on it. To do this, roll it in breadcrumbs to make baked tilapia panko.
The University of Arizona offers other tilapia-cooking ideas. An alternative method is to grill the fish after marinating. To make the marinade, combine olive oil, lemon juice, balsamic vinegar, parsley, black pepper, garlic, Tabasco sauce and oregano. After marinating the fish for 30 minutes, remove it from the marinade and cook it on a hot grill for two to three minutes, per side.
Whether you cook tilapia in a pan, in the oven or on the grill, you can get creative. The fish can take on a different personality if you make a topping to spoon over it. For instance, make a cucumber-radish relish by mixing together chopped cucumber, chopped radish, oil, tarragon vinegar, dried tarragon, salt and sugar. Sauté the tilapia in butter in a skillet, and serve it with the relish.
Tilapia Health Debate
A July, 2008 study published in the Journal of the Academy of Nutrition and Dietetics examined the fatty acid content of 30 fish varieties, including tilapia. Although the study isn't recent, the findings are noteworthy because they were widely publicized at the time. Fish varieties with a high omega-3 fat content and a low omega-6 fat content are considered healthier than those that are high in omega-6 fat and low in omega-3 fat.
The study showed that trout and Atlantic salmon have the healthiest omega-3 to omega-6 fat ratio, while tilapia and catfish have the unhealthiest. The later two fish varieties had much more omega-6 fat, which some medical experts consider inflammatory. Based on the findings, the authors warned against eating tilapia.
Harvard Health Publishing took issue with the conclusions of the Journal of the Academy of Nutrition and Dietetics' study. According to the institution, concerns about the adverse health potential of omega-6 fat aren't justified, because the nutrients have positive, as well as negative effects in the body. In addition, although tilapia isn't as healthy as salmon, it provides more of the beneficial omega-3 fat than beef and poultry.